Marion Blachowski Updated: 22 MAR 2022 Photo from Greg, Niebieska eskadra, see more. Photo: Mogens Jeppesen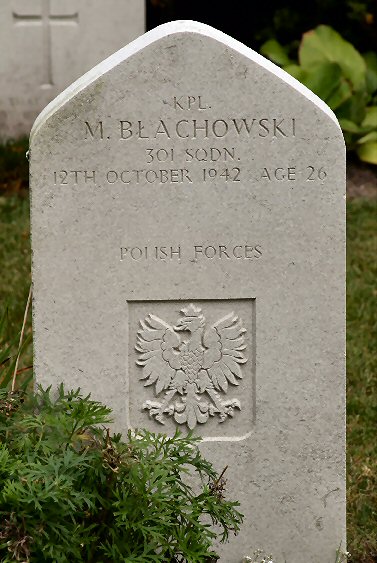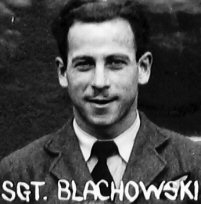 Airman: a113038.htm Surname: Blachowski Init: M Rank: Sgt

Service: PAF Sqdn: 301 P_link: p119.htm Plane: WEL R1585

Operation: Minelaying Crash_site: Near Hoptrup
Crash_d: d111042 Buried_d: b111111 C_link: c113.htm

At_Next: Aabenraa, R 2-9

Den 11. oktober 1942 styrtede WEL R1585 ned ved Hytterkobbel Skov (som er her) under en minelægningsoperation. Se Minelægningsområder * p119MACR.
De 5 besætningsmedlemmer blev alle kvæstet ved styrtet og indlagt på Haderslev sygehus.
Her døde Sgt Blachowski den 13. oktober 1942 kl. 00.45. 21 flyvere fra PAF er begravet i Danmark.
De 4 andre flyvere blev ført til Tyske krigsfangelejre. (Kilde: FAF) 5 flyvere.

On 11 October 1942 WEL R1585 crashed near Hytterkobbel Skov (which is here) on a
minelaying operation. See Minelaying areas * p119MACR has more.
All of the 5 crew members were injured in the crash and admitted to Haderslev Hospital.
On 13 October 1942 at 00.45 hrs. Sgt Blachowski died here from his wounds.
The 4 other airmen were were taken to German POW-Camps. (Source: FAF)
"Sgt T.M.Kowalski was interned in Camps L1 Barth / L6 Heydekrug / 357 Thorn-Fallingbostel.
Sgt K.Molewicz in Camps 9C Mühlhausen / 357 Thorn-Fallingbostel.
F/O J.Stachurski in Camp L3 Sagan.
Sgt Z.Turuta in Camps 4B Mühlberg / L6 Heydekrug / L4 Gross Tychow." (Lost Bombers)
See No. 301 Polish Bomber Squadron * Vickers Wellington - Tangmere * Vickers Wellington
36 Polish Airmen shot down over Denmark

Wellington IV W1585 QR-O took off from RAF Hemswell at 18:37 on 11 OCT 1942.

(Source: Aircrew Remembered has this + Polish Awards.) 5 airmen.