Marion Blachowski Updated: 27 JUN 2012 Photo from Greg, Niebieska eskadra, see more. Photo: Mogens Jeppesen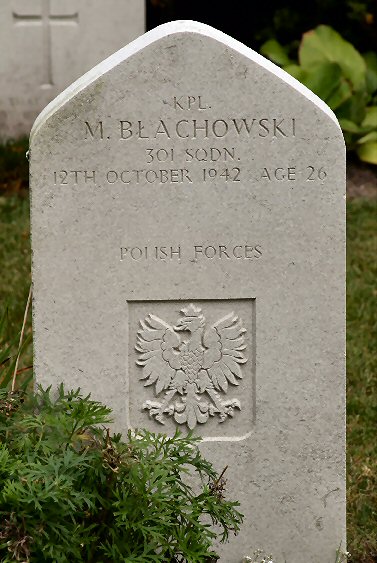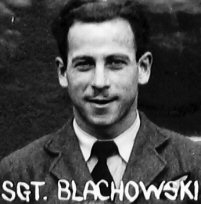 Airman: a113038.htm Surname: Blachowski Init: M Rank: Sgt

Service: PAF Sqdn: 301 P_link: p119.htm Plane: WEL R1585

Operation: Minelaying Crash_site: Near Hoptrup
Crash_d: d111042 Buried_d: b111111 C_link: c113.htm

At_Next: Aabenraa, R 2-9

Den 11. oktober 1942 styrtede WEL R1585 ned ved Hytterkobbel Skov (som er her) under en minelægningsoperation.
De 5 besætningsmedlemmer blev alle kvæstet ved styrtet og indlagt på Haderslev sygehus.
Her døde Sgt Blachowski den 13. oktober 1942 kl. 00.45. 21 flyvere fra PAF er begravet i Danmark.
De 4 andre flyvere blev ført til Tyske krigsfangelejre. (Kilde: FAF) 5 flyvere.

On 11 October 1942 WEL R1585 crashed near Hytterkobbel Skov (which is here) on a
minelaying operation.
All of the 5 crew members were injured in the crash and admitted to Haderslev Hospital.
On 13 October 1942 at 00.45 hrs. Sgt Blachowski died here from his wounds.
The 4 other airmen were were taken to German POW-Camps. (Source: FAF)
See Bomber Command No. 301 (Polish) Squadron and No. 301 Polish Bomber Squadron.

Also The Poles on the Front Lines. 21 Polish Airmen are buried in Denmark.

This Wellington took off from RAF Hemswell. See RAF Hemswell Association.

5 airmen. Lost Bombers has this.