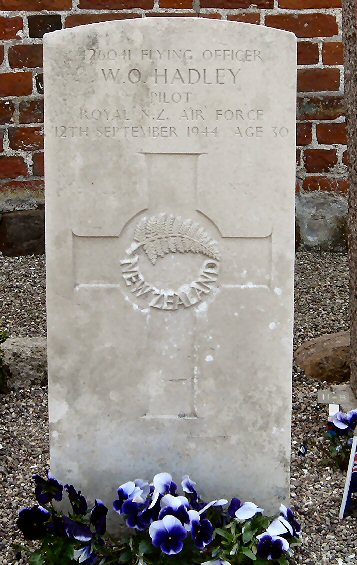 Wilson Orchard Hadley Updated: 01 DEC 2016
Airman: a111002.htm Surname: Hadley Init: W O Rank: F/O Service: RNZAF Sqdn: 75
P_link: p372.htm Plane: LAN LM268 Operation: Minelaying Crash_site: Ørslev Kohave
Crash_d: d120944 Buried_d: b240944 C_link: c111.htm At_Next: Ørslev

"Under en mineudlægningsoperation blev et "Lancaster" fly natten til den 12. september 1944 skudt i brand. Flyet kom lidt over midnat ind over Sydsjælland, hvor det styrtede ned i en ejendom i Ørslev Kohave. (Her, zoom.) Herved omkom ejeren parcellist Pommergaard, hans kone og tre voksne børn. Af de 7 ombordværende flyvere omkom de 5.
Under oprydningen på nedstyrtningsstedet fandt man de forkullede rester af J.M. Biggar og W.O. Hadley. Tyskerne gav den stedlige graver besked om at grave en grav, hvori de 2 lig så blev lagt. Sognepræst
P. Høyer-Christensen foretog efter gudstjenesten den 24. september 1944 jordpåkastelse ved en højtidelighed ude ved graven.
Flying Officer (Pilot) Wilson Orchard Hadley, 30 år, var søn af Charles Hadley og af Ellen Hadley (f. Hawke), Amberley, Canterbury, New Zealand; gift med Esme Elizabeth Hadley, St. Albans, Christchurch, Canterbury. (Kilde: CWGC)
Fra LAN LM268 blev 3 flyvere begravet på Svinø og 2 i Ørslev. 1 flyver blev krigsfange og 1 nåede Sverige.
Se Lancaster fotos og Minelægningsområder. 7 flyvere.



During a minelaying operation a Lancaster was hit and caught fire on the night before 12 September, 1944. The plane came in over south Zealand a little after midnight, where it crashed into a small farm in Ørslev Kohave. (Here, zoom) The owner Carl Pommergaard, his wife and their three adult children perished.
Of the 7 airmen aboard 5 perished.
During the clear-up at the crash site the charred remains of J.M. Biggar and W.O. Hadley were found.
The Germans ordered the local gravedigger to dig a grave, in which the 2 bodies then were laid.
After the service on 24 September 1944 vicar P. Høyer-Christensen sprinkled earth on the grave in a
ceremony in the churchyard. (Source: FAF)
Flying Officer (Pilot) Wilson Orchard Hadley, 30, was the son of Charles Hadley and of Ellen Hadley (nee Hawke), of Amberley, Canterbury, New Zealand, and the husband of Esme Elizabeth Hadley, of St. Albans, Christchurch, Canterbury. (Source: CWGC)
3 airmen from LAN LM268 were buried in Svinø and 2 in Ørslev. 1 airman became a POW, 1 reached Sweden.
See Bomber Command No. 75 Squadron and No. 75 Squadron RNZAF. 75 Squadron Association NZ + UK.
See Lancaster Photos and Minelaying areas.
Lancaster I LM268 AA-D took off from RAF Mepal at 19.35 hrs on 11 SEP 1944. (Source: Aircrew Remembered has this.)
75(nz)squadron has more, also 75(NZ) Squadron RAF Records from September 1944, find entry of 11/12.9.44,
and see that this plane with Captain Hadley failed to return. 7 airmen.