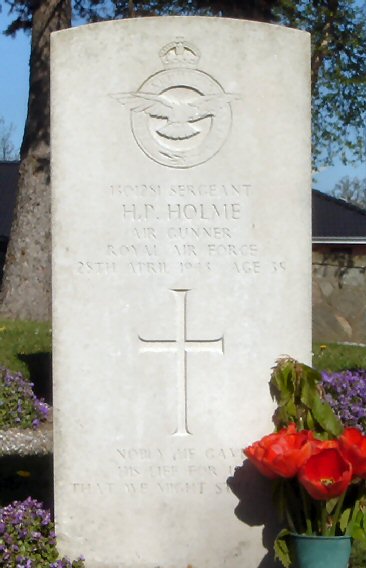 Harry Pears Holme Updated: 11 JUN 2022
Airman: a096030.htm Surname: Holme Init: H P Rank: Sgt Service: RAF Sqdn: 75
P_link: p170.htm Plane: STI BK807 Operation: Minelaying Crash_site: Langelandsbælt
Crash_d: d280443 Buried_d: b280643 C_link: c096.htm At_Next: Svinø

Den 29. april 1943 kl. 00.08 blev STI BK807 skudt ned af den tyske marines flakbatteri MAA 814
i Nyborg. Flyet styrtede i Langelandsbæltet (måske omkring her). Det var på en minelægningsoperation til den vestlige del af Fehmarn Bælt, omkring her. (Kilde: FT 86-89-12)
Se også Minelægningsområder med området Radish (Kilde: p170MACR)
H. P. Holme blev fundet i Nakskov Fjord (omkring her). Han blev begravet den 28. juni 1943. (Kilde: FAF)
Sergeant (Air Gunner) Harry Pears Holme, 35 år, var søn af Thomas og Sarah Holme, Lower Ince,
Wigan, Lancashire, UK; gift med Eveline Holme, Lower Ince, United Kingdom. (Kilde: CWGC)
2 flyvere fra STI BK807 blev begravet på Svinø Kirkegård. 5 flyvere har ingen kendt grav. 7 flyvere.

On 29 April 1943 at 00.08 hours STI BK807 was shot down by Marine Flak Batteri MAA 814 from
the German Navy, located in Nyborg. The plane crashed into the Langelandsbelt
(maybe about here). It was on a minelaying operation to the western part of Fehmarn Belt, about here. (Source: FT 86-89-12) See Minelaying areas with the area Radish (Source: p170MACR).
H. P. Holme was found in the Nakskov Fjord (about here). He was buried on 28 June 1943.(Source: FAF)

Sergeant (Air Gunner) Harry Pears Holme, 35, was the son of Thomas and Sarah Holme, of Lower Ince, Wigan, Lancashire, and the husband of Eveline Holme, of Lower Ince, United Kingdom. (Source: CWGC)
Nobly he gave his life for us that we might still live.
He is remembered on The Walls of Names at the International Bomber Command Centre, Ph 2, P 135.
2 airmen from STI BK807 were buried in Svinø Churchyard. 5 airmen have no known grave.
See No. 75 Squadron RNZAF. 75(nz)squadron has more, also 75(NZ) Squadron RAF Records from April 1943,
find entry of 28.4.1943, and see that this plane with Captain Hamer failed to return.
Stirling III BK807 AA-M took off from RAF Newmarket at 20:30 on 28 APR 1943. (Source: Aircrew Remembered has this.) Google Map planesRNZAF 7 airmen.