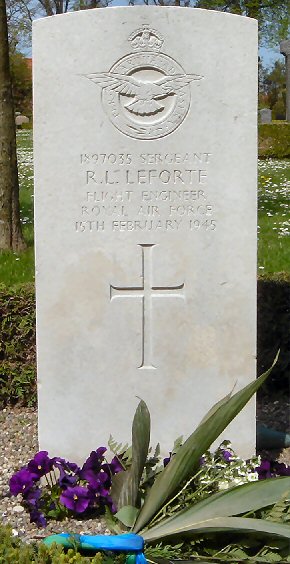 Raymond Leslie Leforte Updated: 28 MAR 2022
Airman: a093001.htm Surname: Leforte Init: R L Rank: Sgt Service: RAF Sqdn: 77
P_link: p396.htm Plane: HAL MZ924 Operation: Minelaying Crash_site: Smålandsfarvandet
Crash_d: d140245 Buried_d: b260745 C_link: c093.htm At_Next: Stubbekøbing

"I forbindelse med en mineudlægningsoperation natten til den 15. februar 1945 nedstyrtede en "Halifax" i havet
et sted syd for Sjælland. Hele besætningen omkom. Se Google Map p396 og Maleri af HAL KN-D.
Et besætningsmedlem, R. L. Leforte, blev fundet ved Sortsø (omkring her) den 23. juli 1945 og blev begravet som
ukendt den 26. juli. I følget sås bl.a. borgmester P. Hansen og politiassistent R. Jacobsen. Ved kisten stod 3 politifolk og 3 frihedskæmpere æresvagt. Pastor N. Lund holdt en smuk tale og læste til slut en engelsk salme." (FAF)
Sergeant (Flight Engineer) Raymond Leslie Leforte var fra United Kingdom. (Kilde: CWGC)
Besætningen på HAL MZ924 er begravet i Skælskør (1), Brarup (2), Stubbekøbing (1), Svinø (2) og Bogø (1).
7 flyvere.



"In connection with a minelaying operation the night before 15 February, 1945 a "Halifax" crashed into the sea somewhere south of Zealand. All of the crew perished. See Google Map p396 and Painting of HAL KN-D.
On 23 July 1945 the body of R. L. Leforte was found at Sortsø (about here). On 26 July he was buried as an unknown.
Among the mourners were Mayor P. Hansen and Police Inspector R. Jacobsen. 3 policemen and 3 members of the resistance movement stood at the coffin as a guard of honour. Vicar N. Lund delivered a beautiful speech and at last
he read a hymn in English."
Sergeant (Flight Engineer) Raymond Leslie Leforte was from the United Kingdom. (Source: CWGC)
He is remembered on The Walls of Names at the International Bomber Command Centre, Phase 2, Panel 198.
The airmen of HAL MZ924 are buried in Skælskør (1), Brarup (2), Stubbekøbing (1), Svinø (2) and Bogø (1). 7 airmen.

No.77 Squadron RAF * 77 Squadron Association * Halifax * Halifax Print * Halifax-BC Museum.Canada
Halifax-RAF Museum * Halifax-The Yorkshire Air Museum.
Halifax III MZ924 KN-D took off from RAF Full Sutton at 18.05 hrs on 14 FEB 1945. (Source: Aircrew Remembered has this.) Google Map 77 Squadron DK