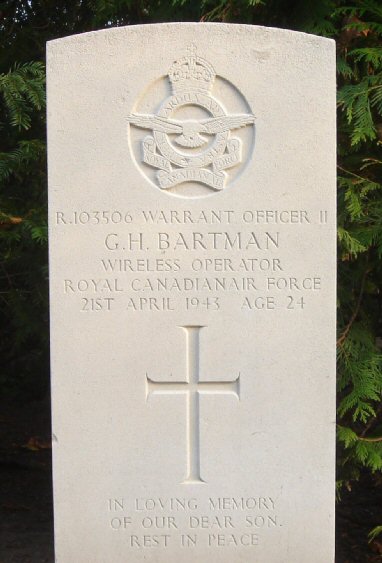 Gordon Harold Bartman Updated: 16 MAY 2021

Airman: a060001.htm Surname: Bartman Init: G H Rank: Wt/O Service: RCAF Sqdn: 102
P_link: p159.htm Plane: HAL HR712 Operation: Bomb G Crash_site: Slipshavn, Storebælt
Crash_d: d210443 Buried_d: b111111 C_link: c060.htm At_Next: Nyborg

Den 21. april 1943 på hjemturen fra et bombetogt mod Stettin styrtede HAL HR712 ramt af flak
ned nær Slipshavn, omkring her. (Kilde: Lost Bombers)
Den 3. maj fandt inspektionsskibet "Absalon" ligene af 3 flyvere i vraget ca. 1550 m fra Slipshavn.
Det var F. W. Day, G. H. Bartman og J. B. M Irving, der blev begravet i Nyborg. Der er ingen
oplysninger om hvornår og hvordan flyverne fra HAL HR712 blev begravet. (Kilde: FAF)
Warrant Officer Class II (Wireless Operator) Gordon Harold Bartman, 24 år, var søn af
Harold Wellington Bartman og Christina Vera Bartman, Hanna, Alberta, Canada. (Kilde: CWGC)
Se Halifax Print og folk bag en Halifax klar til en mission. Se Stettin + Rostock 20 - 21 April 1943.
7 flyvere.

On 21 April 1943 on the return flight from a bombing raid on Stettin HAL HR712 crashed, hit by
flak, near Slipshavn, about here. (Source: Lost Bombers)
On 3 May the ship "Absalon" found the bodies of 3 airmen in the wreck about 1550 m from Slipshavn.
F. W. Day, G. H. Bartman and J. B. M Irving were buried in Nyborg New Cemetery. There is no information about how and when the airmen from HAL HR712 were buried. (Source: FAF)
Warrant Officer Class II (Wireless Operator) Gordon Harold Bartman, 24, was the son of
Harold Wellington Bartman and Christina Vera Bartman, of Hanna, Alberta, Canada. (Source: CWGC)
In loving memory of our dear son. Rest in peace
His name is engraved on the Memorial Wall at the BC Museum of Canada.
The Canadian Virtual War Memorial has this.
He is remembered on The Walls of Names at the International Bomber Command Centre, P2, P127.

See No. 102 Squadron - Wikipedia * Stettin + Rostock 20 - 21 April 1943.
Halifax II HR712 DY- took off from RAF Pocklington at 21.34 hrs on 20 FEB 1943.
(Source: Aircrew Remembered has this.) See Pocklington History.
Halifax-RAF Museum * Halifax-The Yorkshire Air Museum. See Halifax Print and Halifax - Bless 'Em All. 7 airmen.