William Henry James Updated: 04 OCT 2021 Photo 01 SEP 2015 by AS

Airman: a047002.htm Surname: James Init: W H Rank: P/O Service: RAF Sqdn: 138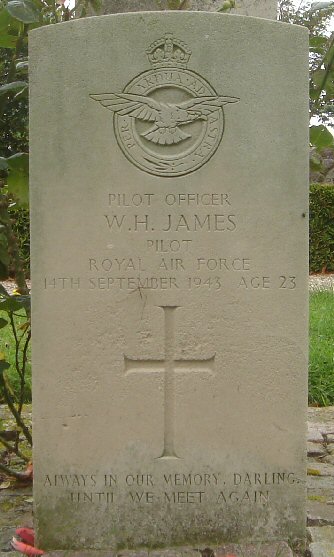 P_link: p220.htm Plane: HAL HR666 Operation: SOE to PL Crash_site: Storebælt off Sprogø
Crash_d: d140943 Buried_d: b160943 C_link: c047.htm At_Next: Korsør

Den 14. september 1943 styrtede HAL HR666 i Storebælt mellem Halsskov Rev og Sprogø,
måske omkring her. Det var på en nedkastningsoperation til Polen sammen med en del andre
polske og britiske fly.(Kilde: FAF og p220MACR) Se Halifax Print og folk bag en Halifax klar til en mission.
Flyvehistorisk Tidsskrift skriver:
"Under overflyvning af Storebælt blev flyet skudt ned af tysk flak på Halsskov Rev.
Den tyske krigsmarine reddede tre besætningsmedlemmer, F/Sgt. William Henry James (pilot),
Sgt. Thomas Alexander Payne (air gunner) og Sgt. Donald Harward White (flight engineer).
Alle tre var sårede og ved ankomsten til Korsør havn var F/Sgt James død." (FT 88-34-16)
Pilot Officer (Pilot) William Henry James, 23 år, var søn af William James og
Clara Emily James, Monmouth, United Kingdom. (Kilde: CWGC)
2 flyvere fra HAL HR666 blev begravet i Korsør, 1 i Frederikshavn og 1 i Norge.
1 har ingen kendt grav. 2 flyvere blev ført til Tyske krigsfangelejre. 7 flyvere.

On 14 September 1943 at 22.30 hours HAL HR666 crashed into the Storebælt between
Halskov Reef and Sprogø, maybe about here. It was on an SOE-mission to Poland.

(Danish) Aviation Historical Review writes:
"Overflying the Storebælt this plane was shot down by German flak on Halskov Reef.
The German Kriegsmarine rescued 3 crew members, F/Sgt. William Henry James (pilot),
Sgt. Thomas Alexander Payne (air gunner) and Sgt. Donald Harward White (flight engineer).
The 3 of them were wounded. F/Sgt James was dead on the arrival at Korsør Harbour."
(FT 88-34-16)
Pilot Officer (Pilot) William Henry James, 23, was the son of William James and
Clara Emily James, of Monmouth, United Kingdom. (Source: CWGC)
Always in our memory, Darling. Until we meet again
He is remembered on The Walls of Names at the International Bomber Command Centre, Phase 2, Panel 188.
2 airmen from HAL HR666 were buried in Korsør, 1 in Frederikshavn and 1 in Norway. 1 has no known grave.
2 airmen were taken to German POW-Camps.
See No. 138 Squadron RAF * Roll of Honour, Tempsford * Tempsford Special Duties Squadrons * Halifax Print
Halifax - Bless 'Em All * p220MACR.
Halifax II HR666 NF-E took off from RAF Tempsford at 1753 hrs on 14 SEP 1943. (Source: Aircrew Remembered has this.) 7 airmen.