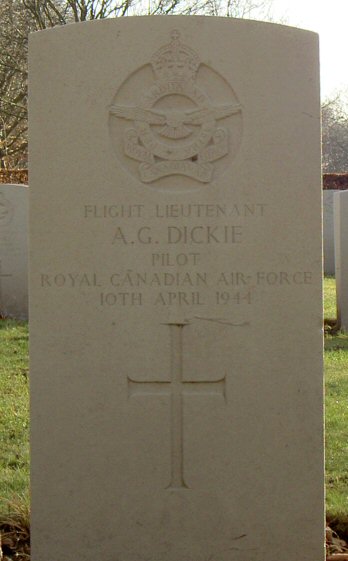 Alexander Gordon Dickie Knud Riis Updated: 03 MAR 2019

Airman: a014218.htm Surname: Dickie Init: A G Rank: F/Lt Service: RCAF Sqdn: 100
P_link: p290.htm Plane: LAN ND675 Operation: Minelaying Crash_site: Near Filskov
Crash_d: d100444 Buried_d: b150444 C_link: c014.htm At_Next: Esbjerg, A. 13. 25

Den 10. april 1944 styrtede LAN ND675 ned ved jernbanelinjen nord for Filskov omkring her på hjemtur efter en minelægningsoperation. (FAF) Se p290MACR.
Den 5. maj 2008 blev et monument afsløret her ved nedstyrtningsstedet.
"Natten til den 10. april 1944 foretog RAF en stor mineudlægningsoperation ved Danzig (Gdansk her).
I forbindelse med overflyvningen af dansk område blev mindst 7 britiske bombefly skudt ned, mens flere nedstyrtede i Nordsøen, i større eller mindre afstand fra Vestkysten. Fra 6 fly nedstyrtet i Midtjylland,
og 2 i Nordsøen, ligger 35 omkomne flyvere begravet i Esbjerg. Samtlige flyvere begravedes den 15. april 1944." (FAF) Se Minelægningsområder.
Flight Lieutenant (Pilot) Alexander Gordon Dickie, 23 år, var søn af William Harrison Dickie og
Mabel Campbell Dickie; gift med Mrs Ethel Audrey Dickie, Toronto, Ontario, Canada. (Kilde: CWGC)
2 flyvere er begravet i Esbjerg, 4 blev taget til fange og sendt til Tyske krigsfangelejre.
1 undslap til Sverige. 7 flyvere.

On 10 April 1944 LAN ND675 crashed near the railway line north of Filskov about here on the return flight from a minelaying operation. (FAF) On 5 May, 2008 a monument was unveiled here at the crash site.
See p290MACR.
"On the night before April 10 1944 a big minelaying operation at Danzig (Gdansk here) was carried out by
the RAF. At least 7 British bombers were shot down as they flew over Danish territory, and several crashed into the North Sea, off the west coast of Jutland. From 6 planes crashed in the central part of Jutland, and
2 in the North Sea, 35 airmen were buried in Esbjerg. All of the airmen were buried on April 15 1944." (FAF)
See Minelaying areas.
Flight Lieutenant (Pilot) Alexander Gordon Dickie, 23, was the son of William Harrison Dickie and
Mabel Campbell Dickie, and the husband of Mrs Ethel Audrey Dickie, of Toronto, Ontario, Canada. (Source: CWGC)
2 airmen are buried in Esbjerg, 4 became POWs and were taken to German POW-Camps. 1 evaded to Sweden.

See No. 100 Squadron RAF - Wikipedia * 100 Squadron Association * RAF-Lincolnshire with RAF Grimsby and 100 Squadron. See Lancaster Photos.
Lancaster III ND675 HW-S took off from RAF Grimsby at 21.23 hrs on 09 APR 1944. (Source: Aircrew Remembered has this.) 7 airmen.