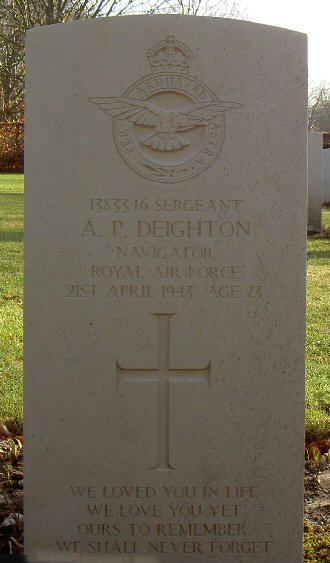 Andrew Peter Deighton Knud Riis Updated: 16 MAY 2021
Airman: a014115.htm Surname: Deighton Init: A P Rank: Sgt Service: RAF Sqdn: 77
P_link: p164.htm Plane: HAL HR714 Operation: Bomb G Crash_site: Sea off Mandø
Crash_d: d210443 Buried_d: b300443 C_link: c014.htm At_Next: Esbjerg, A. 11. 24

Den 21. april 1943 kl. 03.21 styrtede HAL HR714 ned i tidevandsområdet ved Mandø omkring her.
(Kilde: Mandø flystyrt) Det var på hjemturen fra Stettin. Alle ombord omkom.
"Under en stor overflyvning af Danmark natten til den 21. april 1943, hvor bombemålene var Stettin og
Rostock, nedstyrtede mindst 17 fly på dansk område. Fra 8 af disse fly blev i alt 40 dræbte flyvere
begravet i Esbjerg. De 37 begravedes om formiddagen den 30. april 1943 ved den største jordfæstelse
af allierede flyvere under besættelsen. Ved højtideligheden medvirkede en tysk feltpræst, og der blev
nedlagt kranse fra både den tyske værnemagt og Esbjerg byråd." (FAF)

Sergeant (Navigator) Andrew Peter Deighton, 23 år, var søn af Andrew Edgar og Mabel E. Deighton, Tottenham, Middlesex, United Kingdom. (Kilde: CWGC)

Se Halifax Print og folk bag en Halifax klar til en mission. Se Stettin + Rostock 20 - 21 April 1943. 7 flyvere.



On 21 April 1943 at 03.21 hours HAL HR714 crashed into the tidal area of Mandø about here.
(Source: Mandø air crashes) It was on the return flight from Stettin. All on board perished.
"At least 17 planes crashed in Danish territory during a great overflight of Denmark on the night before
21 April 1943 targeting Stettin and Rostock. From 8 of these planes 40 perished airmen were buried in
Esbjerg. 37 of them were buried before noon on 30 April 1943 at the greatest interment of allied airmen
during the occupation. A German army chaplain took part in the ceremony, and wreaths were laid from
the German Wehrmacht and the Town Council of Esbjerg." (FAF)
Sergeant (Navigator) Andrew Peter Deighton, 23, was the son of Andrew Edgar and
Mabel E. Deighton, of Tottenham, Middlesex, United Kingdom. (Source: CWGC)
We loved you in life We love you yet Ours to remember We shall never forget
He is remembered on The Walls of Names at the International Bomber Command Centre, Phase 2, Panel 154.
No. 77 Squadron RAF - Wikipedia * 77 Squadron Association * Halifax
Halifax-RAF Museum * Halifax-The Yorkshire Air Museum * Halifax Print * Halifax - Bless 'Em All.
Halifax II HR714 KN-K took off from RAF Elvington at 22.10 hrs on 21 MAY 1944.
(Source: Aircrew Remembered has this.) Google Map 77 Squadron DK
See Stettin + Rostock 20 - 21 April 1943. See also Air-raid warnings in Esbjerg. 7 airmen.