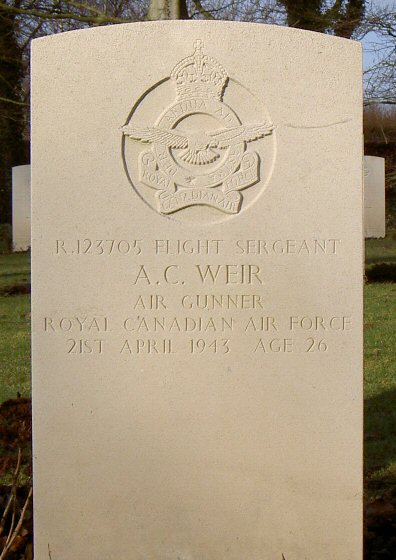 Alexander Cuthbert Weir Knud Riis Updated: 12 MAY 2021
Airman: a014113.htm Surname: Weir Init: A C Rank: F/Sgt Service: RCAF Sqdn: 102
P_link: p155.htm Plane: HAL DT747 Operation: Bomb G Crash_site: Hjertingvej, Esbjerg
Crash_d: d210443 Buried_d: b300443 C_link: c014.htm At_Next: Esbjerg, A. 10. c14

Den 21. april 1943 styrtede HAL DT747 brændende ned her ved Hjertingvej (Kilde: Søren Diers)
ikke langt fra Fiskeri- og Søfartsmuseet i Esbjerg.
Se også Kortet Flystyrt ved Esbjerg af Torben Thorsen og Morten S. Jensen.
Det deltog i et bombetogt til Stettin. Fra 8 af disse fly blev i alt 40 dræbte flyvere begravet i Esbjerg. De 37 begravedes om formiddagen den 30. april 1943 ved den største jordfæstelse af allierede
flyvere under besættelsen. Ved højtideligheden medvirkede en tysk feltpræst, og der blev nedlagt kranse fra både den tyske værnemagt og Esbjerg byråd. (Kilde: FAF)
Flight Sergeant (Air Gunner) Alexander Cuthbert Weir, 26 år, var søn af Hugh Philip og Hattie Kippling Weir, Minaki, Ontario, Canada. (Kilde: CWGC)
Stettin + Rostock 20 - 21 April 1943*Halifax Print*folk bag en Halifax klar til en mission. 8 flyvere.

On 21 April 1943 HAL DT747 crashed, burning, here at Hjertingvej (Source: Søren Diers)
not far from the Fisheries and Maritime Museum in Esbjerg.
See also The map Air Crashes at Esbjerg by Torben Thorsen and Morten S. Jensen.
The plane exploded when it hit the ground. All on board perished.
It took part in a bombing raid on Stettin. From 8 of these planes 40 perished airmen were buried in Esbjerg. 37 of them were buried before noon on 30 April 1943 at the greatest interment of allied airmen during the occupation. A German army chaplain took part in the ceremony, and wreaths
were laid from the German Wehrmacht and the Town Council of Esbjerg. (Source: FAF)
Flight Sergeant (Air Gunner) Alexander Cuthbert Weir, 26, was the son of Hugh Philip and
Hattie Kippling Weir, of Minaki, Ontario, Canada. (Source: CWGC) His name is engraved on the
Memorial Wall at the BC Museum of Canada. The Canadian Virtual War Memorial has this.
He is remembered on The Walls of Names at the International Bomber Command Centre, P2,P262.

See No. 102 Squadron RAF - Wikipedia * Stettin + Rostock 20 - 21 April 1943
Air-raid warnings in Esbjerg * See also STI BK714 with account from S/Ldr.
Halifax II DT747 DY-P took off from RAF Pocklington at 21.20 hrs on 20 FEB 1943.
(Source: Aircrew Remembered has this + Archive Report.) Pocklington History.
Halifax-RAF Museum
Halifax-The Yorkshire Air Museum. See Halifax Print and Halifax - Bless 'Em All. 8 airmen.