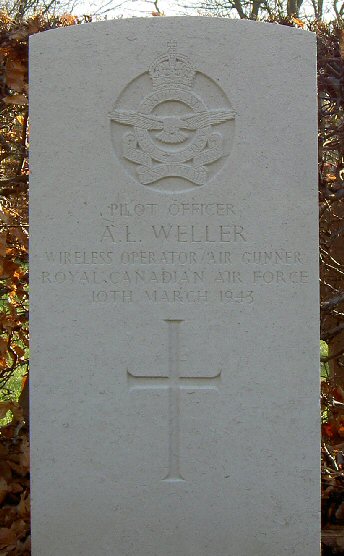 Allen Lewis Weller Photo: Knud Riis Updated: 11 MAY 2021

Airman: a014096.htm Surname: Weller Init: A L Rank: P/O Service: RCAF Sqdn: 166
P_link: p140.htm Plane: WEL BK368 Operation: Minelaying Crash_site: Near Filskov
Crash_d: d090343 Buried_d: b130343 C_link: c014.htm At_Next: Esbjerg, A3. 7. 6

Den 9. marts 1943 kl. 21.30 styrtede WEL BK368 ned nær Filskov ved stedet her, (overblik her) hvor et monument blev afsløret den 5. maj 2008. Flyet havde været på en minelægningsoperation. Se p140MACR.
Se Minelægningsområder. Samme dag afsløredes et monument for besætningen på LAN ND675.
Se Folder p290 + p140 fra Filskov Lokalhistoriske Arkiv via Anne-Vibe Jensen, Billund Kommune. 2 sider om LAN ND675 fulgt af 2 sider om WEL BK368.
Flyvehistorisk Tidsskrift:
"Medens 264 RAF bombefly fløj til München, minerede 62 fly i de danske farvande, Kielerbugten og ved de Frisiske øer. Tre Wellingtons gik tabt, og mindst to af disse havde mineret i Lillebælt. Den kraftige aktivitet i luften over Lillebælt havde adviseret tyskerne, og på hjemturen blev BK368 skudt ned af en tysk natjager. -
Piloten P/O John Patrick Kavanagh, og et andet besætningsmedlem blev fundet dræbt i flyet." (FT 90-48-9)
Pilot Officer (Wireless Operator / Air Gunner) Allen Lewis Weller var fra Canada. (Kilde: CWGC)
4 flyvere fra WEL BK368 blev begravet den 13. marts 1943 i Esbjerg. 1 besætningsmedlem blev krigsfange. Han endte i Tyske krigsfangelejre. (Kilde:FAF) 5 flyvere.

On 9 March 1943 at 21.30 hours WEL BK368 crashed near Filskov at the place here, (overview here) where a monument was unveiled on 5 May 2008. The plane had been on a minelaying operation.
See Minelaying areas. On the same day a monument to the crew of LAN ND675 was unveiled.

(Danish) Aviation Historical Review:
"While 264 bombers from the RAF headed for Munich, 62 planes were on minelaying operations in Danish waters, the Kiel Bay and at the Frisian Islands. 3 Wellingtons were lost, and at least 2 of them had dropped mines into the Lillebælt. The heavy activity in the air over the Lillebælt had advised the Germans. BK368 was shot down on the return flight by a German night fighter. Pilot Officer (Pilot) John Patrick Kavanagh and
1 other crew member were found killed in the plane." (FT 90-48-9)
Pilot Officer (Wireless Operator / Air Gunner) Allen Lewis Weller was from Canada. (Source: CWGC)
His name is engraved on the Memorial Wall at the BC Museum of Canada. The Canadian Virtual War Memorial has this.
He is remembered on The Walls of Names at the International Bomber Command Centre, Phase 1, Panel 113.

4 airmen from WEL BK368 were buried on 13 March 1943 in Esbjerg. 1 crew member became a POW. He was taken to German POW-Camps. (Source: FAF)
See No. 166 Squadron RAF-Wikipedia * RAF 166 Squadron * 166 Squadron RAF-Lincolnshire.info.
Wellington III BK368 AS-P took off from RAF Kirmington at 18.43 hrs on 09 MAR 1943. (Source: Aircrew Remembered has this.) See p140MACR. 5 airmen.