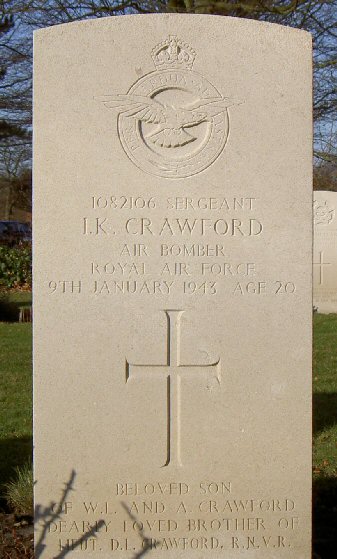 Ian Kieran Crawford Photo: Knud Riis Updated: 11 MAY 2021
Airman: a014077.htm Surname: Crawford Init: I K Rank: Sgt Service: RAF Sqdn: 158
P_link: p130.htm Plane: HAL W7751 Operation: Minelaying Crash_site: At Bryndum
Crash_d: d090143 Buried_d: b140143 C_link: c014.htm At_Next: Esbjerg, A3. 8. 12

Den 9. januar 1943 styrtede HAL W7751 ned ved Bryndum (omkring her) ved Esbjerg.
(Kilde: Kortet Flystyrt ved Esbjerg af Torben Thorsen og Morten S. Jensen)

6 besætningsmedlemmer blev begravet i Esbjerg den 14. januar 1943.
Sgt Llewellyn blev hårdt såret indlagt på Esbjerg Centralsygehus. Han døde den 15. januar 1943.
Den 19. januar 1943 blev han begravet i Esbjerg. 1 flyver blev krigsfange. (Kilde: FAF)
Sgt P. Skinner blev interneret i lejrene 8B/344 Lamsdorf." (Lost Bombers)
Sergeant (Air Bomber) Ian Kieran Crawford, 20 år, var søn af William L. og Ann Crawford, Liverpool,
United Kingdom. (Kilde: CWGC) 8 flyvere.

On 9 January 1943 HAL W7751 crashed at Bryndum (about here) near Esbjerg.
(Source:The map Air Crashes at Esbjerg by Torben Thorsen and Morten S. Jensen)

6 crew members were buried in Esbjerg on 14 January 1943.
Sgt Llewellyn was severely injured and he was taken to hospital in Esbjerg.
He died on 15 January 1943. On 19 January 1943 he was buried in Esbjerg.
1 airman became a prisoner of war. (Source: FAF)
Sgt. P. Skinner was interned in Camps 8B/344 Lamsdorf." (Lost Bombers)
Sergeant (Air Bomber) Ian Kieran Crawford, 20, was the son of William L. and Ann Crawford, of Liverpool, United Kingdom. (Source: CWGC)
Beloved son of W.L. and A. Crawford / dearly loved brother of Lieut. D.L. Crawford, R.N.V.R.
He is remembered on The Walls of Names at the International Bomber Command Centre, Phase 2, P 150.
See No. 158 Squadron RAF - Wikipedia * 158 Squadron Association
Halifax * Halifax-BC Museum.Canada * Halifax-RAF Museum * Halifax-The Yorkshire Air Museum

Halifax II W7751 NP-F took off from RAF Rufforth at 16.02 hrs on 09 JAN 1943.
(Source: Aircrew Remembered has this.) See Halifax Print and Halifax - Bless 'Em All. 8 airmen.