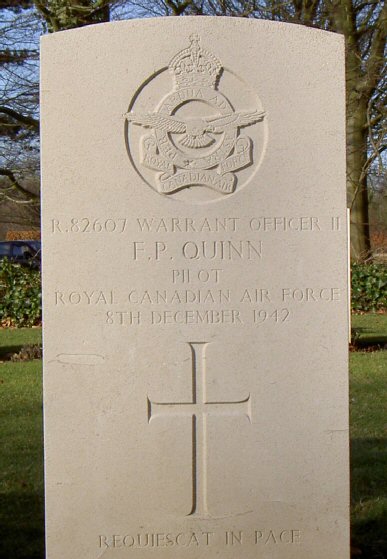 Francis Paul Quinn Photo: Knud Riis Updated: 11 MAY 2021
Airman: a014075.htm Surname: Quinn Init: F P Rank: Wt/O Service: RCAF Sqdn: 101
P_link: p126.htm Plane: LAN W4782 Operation: Minelaying Crash_site: Novrup near Esbjerg
Crash_d: d081242 Buried_d: b121242 C_link: c014.htm At_Next: Esbjerg, A3. 8. 9

Den 8. december 1942 styrtede LAN W4782 ned ved Novrup (omkring her) øst for Esbjerg.
(Kilde: Kortet Flystyrt ved Esbjerg af Torben Thorsen og Morten S. Jensen)
Det var under en minelægningsoperation i Storebælt, se Minelægningsområder. (Kilde: p126MACR)

3 omkomne flyvere blev fundet i maskinens vrag. De blev begravet i Esbjerg den 12. december 1942.
4 overlevende besætningsmedlemmer blev taget til fange. (Kilde: FAF)
De blev ført til Tyske krigsfangelejre.
Warrant Officer Class III (Pilot) Francis Paul Quinn var søn af Francis Patrick og
Mary Josephine Quinn, Ottawa, Ontario, Canada. (Kilde: CWGC)
Se Lancaster fotos. 7 flyvere.

On 8 November 1942 LAN W4782 crashed at Novrup (about here) east of Esbjerg.
It was on a minelaying operation to the area Asparagus, see Minelaying areas. (Source: p126MACR)

3 perished airmen were found in the wreckage. They were buried in Esbjerg on 12 December 1942.
4 surviving crew members were captured. (Source: FAF) They were taken to German POW-Camps.
Warrant Officer Class III (Pilot) Francis Paul Quinn was the son of Francis Patrick and Mary Josephine Quinn, of Ottawa, Ontario, Canada. (Source: CWGC) Requiescat in pace
His name is engraved on the Memorial Wall at the BC Museum of Canada.
The Canadian Virtual War Memorial has this.
He is remembered on The Walls of Names at the International Bomber Command Centre, Ph1, P87.

See No. 101 Squadron RAF - Wikipedia and Lancaster photos,
Lancaster I W4782 SR-J took off from RAF Holme-on-Spalding Moor on 08 DEC 1942.
(Source: Aircrew Remembered has this.) 7 airmen.