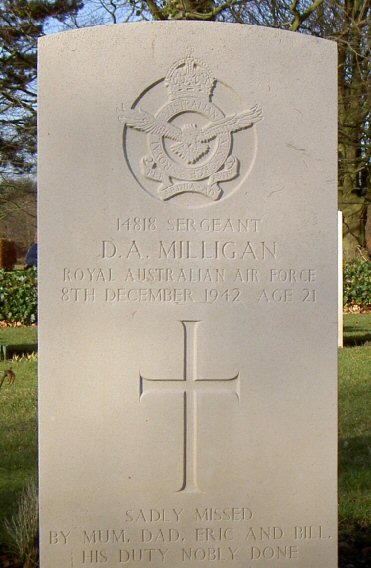 Douglas Arthur Milligan Photo: Knud Riis Updated: 01 FEB 2019
Airman: a014074.htm Surname: Milligan Init: D A Rank: Sgt Service: RAAF Sqdn: 101
P_link: p126.htm Plane: LAN W4782 Operation: Minelaying Crash_site: Novrup near Esbjerg
Crash_d: d081242 Buried_d: b121242 C_link: c014.htm At_Next: Esbjerg, A3. 8. 8

Den 8. december 1942 styrtede LAN W4782 ned ved Novrup (omkring her) øst for Esbjerg.
(Kilde: Kortet Flystyrt ved Esbjerg af Torben Thorsen og Morten S. Jensen)
Det var under en minelægningsoperation i Storebælt, se Minelægningsområder. (Kilde: p126MACR)

3 omkomne flyvere blev fundet i maskinens vrag. De blev begravet i Esbjerg den 12. december 1942.
4 overlevende besætningsmedlemmer blev taget til fange. (Kilde: FAF)
De blev ført til Tyske krigsfangelejre.
Sergeant Douglas Arthur Milligan, 21 år, var søn af Stewart Howe Milligan og Dorothy Milligan,
Concord, New South Wales, Australia. (Kilde: CWGC)
Se Lancaster fotos. 7 flyvere.

On 8 November 1942 LAN W4782 crashed at Novrup (about here) east of Esbjerg.
It was on a minelaying operation to the area Asparagus, see Minelaying areas. (Source: p126MACR)

3 perished airmen were found in the wreckage. They were buried in Esbjerg on 12 December 1942.
4 surviving crew members were captured. (Source: FAF) They were taken to German POW-Camps.
Sergeant Douglas Arthur Milligan, 21, was the son of Stewart Howe Milligan and Dorothy Milligan,
of Concord, New South Wales, Australia. (Source: CWGC)
Sadly missed by Mum, Dad, Eric and Bill. His duty nobly done
See No. 101 Squadron RAF - Wikipedia and Lancaster photos,
Lancaster I W4782 SR-J took off from RAF Holme-on-Spalding Moor on 08 DEC 1942.
(Source: Aircrew Remembered has this.) 7 airmen.