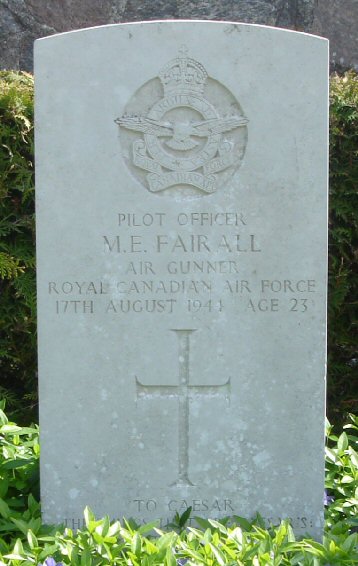 Maurice Elmer Fairall Updated: 09 MAR 2021

Airman: a007001.htm Surname: Fairall Init: M E Rank: P/O Service: RCAF Sqdn: 433
P_link: p340.htm Plane: HAL MZ899 Operation: Minelaying Crash_site: SW of Langeland
Crash_d: d170844 Buried_d: b111044 C_link: c007.htm At_Next: Bogø



I forbindelse med en mineudlægningsoperation ved Kiel styrtede HAL MZ899 i Østersøen sydvest
for Langeland den 17. august 1944, måske her.
Hele besætningen omkom. 2 er begravet i Magleby på Langeland, 1 på Bogø, 1 i Aabenraa, 1 i Tyskland
og 2 har ingen kendt grav.

M.E. Fairall drev ind på kysten af Bogø den 5. oktober 1944. Begravelsen var den 11. oktober 1944 på Bogø. (Kilde: FAF) Pilot Officer (Air Gunner) Maurice Elmer Fairall, 23 år, var søn af Clarence Horace
og Lillian Fairall, Toronto, Ontario, Canada. (Kilde: CWGC)
Denne Halifax forlod RAF Skipton On Swale kl. 2134 den 16 AUG 1944 for at lægge miner i
Forget-Me-Not, Kiel Harbour. (Kilde: MACR) Se Minelægningsområder.
Se Print af en Halifax * Maleri af Halifax III MZ924 KN-D. 7 flyvere.



In connection with a minelaying operation at Kiel HAL MZ899 crashed into the Baltic Sea south
west of Langeland on 17 August, 1944, maybe here.
This Halifax took off on 16 AUG 1944 to lay mines in Forget-Me-Not, Kiel Harbour. (Source: p340MACR)
See Minelaying areas.All of the crew perished. 2 airmen are buried in Magleby on Langeland, 1 on Bogø,
1 in Aabenraa, 1 in Germany and 2 have no known graves.

M.E. Fairall drifted ashore on Bogø on 5 October, 1944. The burial was on 11 October, 1944 on Bogø. (Source: FAF)
Pilot Officer (Air Gunner) Maurice Elmer Fairall, 23, was the son of Clarence Horace and
Lillian Fairall, of Toronto, Ontario, Canada. (Source: CWGC)
To Caesar the things that are Caesar´s; to God the things that are God´s.
His name is engraved on the Memorial Wall at the BC Museum of Canada.
The Canadian Virtual War Memorial has this. He is remembered on The Walls of Names at
the International Bomber Command Centre, Phase 2, Panel 162.
No. 433 (Porcupine) Squadron was formed within No. 6 Group, see No. 6 Group and the Canadian Squadrons
Halifax * Halifax-BC Museum.Canada * Halifax-RAF Museum * Halifax-The Yorkshire Air Museum * Halifax Print and Halifax - Bless 'Em All.
Halifax III MZ899 BM-D took off from RAF Skipton-on-Swale at 21.34 hrs on 16 AUG 1944. (Source: Aircrew Remembered has this.) p340MACR
See Painting of Halifax III MZ924 KN-D 7 airmen.