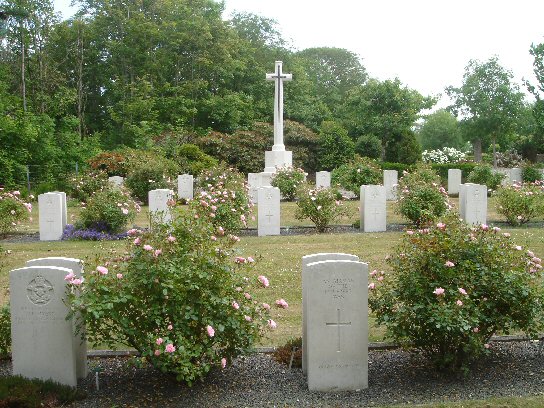 Lemvig, 41 britiske (Commonwealth) flyvere, 1 polsk flyver
(7 amerikanske flyvere hjemført i maj 1948).
Se kortet USAAF med alle amerikanske flyvere begravet i Danmark.
Lemvig Kirkegård ved Ydunslund 2A, 7620 Lemvig i Lemvig Kommune.
Indgangen er her. Det store kors er her mod nord
foran de allierede krigergrave. Se kranse, november 2008.
Se Lemvig Kirkegård på nettet med folder om kirkegården
og de allierede krigergrave. Millar er ikke en flyver.
Se 207 Squadron RAF om identifikation af 2 ukendte flyvere
i Lemvig fra Plane 177, LAN W4945 - Remmerstrand - styrt 1943.



Lemvig, 41 Commonwealth airmen, 1 Polish airman
(7 American airmen taken home in May, 1948).
See the map USAAF with all American airmen buried in DK.
Lemvig Kirkegaard at Ydunslund 2A, DK-7620 Lemvig
in the Municipality of Lemvig.
The entrance is here. The Cross of Sacrifice is here to the north
in front of the Commonwealth War Graves. See wreaths, NOV 2008.
See the cemetery on the internet with a folder
about the cemetery and the allied war graves.
Text in Danish, but also some photos. Millar is not an airman.
See 207 Squadron RAF about identification of 2 unknown airmen
in Lemvig from Plane 177, LAN W4945 Remmerstrand, crash 1943.