Orland T. Howard Photo from Niels Christian Pihl
Updated: 03 JAN 2012
Airman: v999028.htm Surname: Howard Init: O T Rank: 2ndLt Service: USAAF Sqdn: 715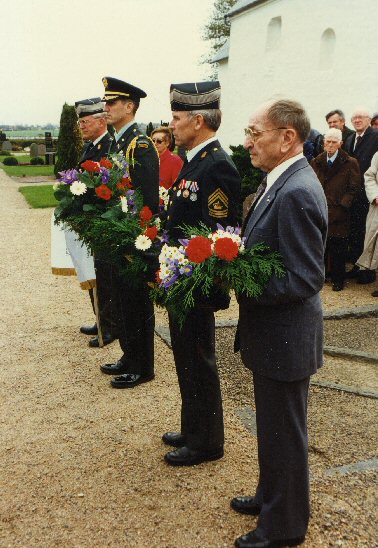 Pedersker 5 May 1996
P_link: p306.htm Plane: B24 41-29479 Operation: Bomb G Crash_site: Near Poulsker
Crash_d: d290444 Buried_d: v999 C_link: v999.htm At_Next: EVD

B24 41-29479 "Gypsy Moth" var den 29. april 1944 med start fra basen Seething på bombetogt
til Berlin. (Kilde: FT 87-93-6)
Flyet styrtede ned her ved Jomfrugård, Strandmarksvejen 7, 3730 Nexø omkring 2 km syd for
Poulsker. (Kilde: Niels Christian Pihl)
"Under indflyvningen til målet blev flyet ramt af flak, og bombelugerne kunne ikke åbnes ved hjælp af automatik. Med håndkraft blev de dog åbnet og med noget besvær blev bombelasten derefter kastet. Efter passage af Berlin fik flyet alvorlige motorproblemer, og ud over Østersøen fløj man på kun en
motor. Piloten gav derfor ordre til at forlade flyet, så snart man var inde over land igen. Over Poulsker (omkring her) sprang den første mand fra 3400 fods højde (1000 m) og den sidste, piloten, sprang i
2400 fods højde (700 m). (Ved denne flyver ses kun hans historie. Se resten ved B24 41-29479.)
Det sidste besætningsmedlem, Pilot 2nd Lt Orland T. Howard, fik man kontakt med kort efter at
de andre flyvere var sendt afsted. Man fandt ham på et høloft, og senere blev han kørt til Munck i
Bølshavn. Her var han ca. 5 dage, før han med ruteskibet "Carl" (se detaljer om transporten), blev
sejlet fra Gudhjem (her - overblik) til Falsterbo (Falsterbokanalen her), hvor han steg over i den
svenske lodsbåd. Den 10. maj var Lt. Howard tilbage i England." (FT 87-93-6)

Orland T. Howard besøgte Bornholm i 1996, hvor han 5. maj 1996 også lagde en krans ved
Ambrosinis grav på Pedersker Kirkegård. 10 flyvere.

Starting from Seething Airfield on 29 April 1944 B24 41-29479 "Gypsy Moth" was on a bombing
raid to Berlin. (Source: FT 87-93-6)
The plane crashed here at Jomfrugård, Strandmarksvejen 7, DK-3730 Nexø about 2 km south of Poulsker. (Source: Niels Christian Pihl)
"The plane was hit by flak on its approach to target, and the bomb hatches could not be opened automatically. However, they were opened by hand and then the bomb load was dropped with some difficulty. Having passed Berlin the plane had serious engine problems, and over the Baltic Sea only one engine worked. The pilot ordered that the plane was to be abandoned as soon as they were over land again. The first man bailed out over Poulsker (about here) at an altitude of 3400 feet and the last, the pilot, bailed out at an altitude of 2400 feet. (At this airman you only read the story of him and his companion. See the others at B24 41-29479).
The last crew member Pilot 2nd Lt Orland T. Howard was contacted by Danes shortly after the other airmen had been sent on their way. He was found in a hayloft,
and later he was driven to Munck in Bølshavn. Here he stayed for about 5 days, until the steamer "Carl" on its run to Copenhagen (see details about "Carl") took him
from Gudhjem (here - overview) to Falsterbo (Falsterbokanalen here), where he entered the Swedish pilot boat. (Text in English without map, the Falsterbo Canal.)
On 10 May Lt Howard was back in England." (FT 87-93-6)
Orland T. Howard visited Bornholm in 1996, where he also laid a wreath at Ambrosini´s grave in Pedersker Churchyard.
This B-24H Liberator belonged to 715th Bombardment Squadron, 448th Bombardment Group, (Heavy) 8th Air Force. See 8th Air Force in World War II. 10 airmen.