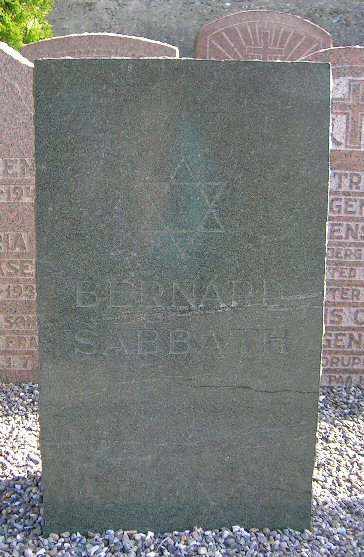 Bernard Sabbath Updated: 02 AUG 2021
Photo: Jørgen Toft
Airman: u090001.htm Surname: Sabbath Init: B Rank: S/Sgt Service: USAAF Sqdn: 4
P_link: p345.htm Plane: B24 4440443 Operation: Bomb G Crash_site: Near Holt, Suffolk.
Crash_d: d240844 Buried_d: b020145 C_link: c090.htm At_Next: (Stenbjerg)

"Under et bombetogt med Kiel som mål blev en B-24 Liberator ramt af flak i en motor.
Over Nordsøen (53,40N-04,05E) sprang 9 besætningsmedlemmer ud med faldskærm. De omkom alle.
Den 10. mand ombord, Command Pilot, Major Garrett, kunne ikke forlade flyet, der var gået i spin.
Senere fik han atter kontrol over flyet og fortsatte mod vest til benzinen slap op. Major Garrett sprang ud med faldskærm over England, hvor flyet styrtede ned i et hus i Suffolk.
En af flyets skytter, Sgt Sabbath, drev i land som lig syd for Stenbjerg landingsplads den 25. september 1944. Værnemagten begravede flyveren på den øvre strandbred den 27. september. Med den tyske værnemagts tilladelse flyttedes liget til Stenbjerg Kirkegård den 2. januar 1945, hvor begravelsen foretoges af sognepræst Poul Nielsen.
Opgravet og sendt til USA den 4. maj 1948." (FAF) - men hans gravsten er stadig her ved Stenbjerg Kirke sammen med andre gamle gravsten. Se også USAAF- Flyvere fra USA.
Han blev ført til Ardennes American Cemetery i Belgien. Hans navn er ikke i registret hos ABMC,
så mest sandsynligt blev han begravet på en privat kirkegård i USA.
Se Historisk Årbog for Thy og Vester Han Herred 1980, artiklen
Axel Rasmussen: Flyverbegravelse i Stenbjerg hos Arkivthy og
Historisk Årbog for Sydthy 2007 Poul Martin Kjær: En amerikansk soldats skæbne (med breve fra bl.a. Sabbaths mor) hos Arkivthy. 10 flyvere.



"On a bombing raid targeting Kiel a B-24 Liberator was hit by flak in an engine. Over the North Sea (53,40N-04,05E) 9 members of the crew bailed out. All of them perished.
The 10th man on board, Command Pilot, Major Garrett, was unable to leave the plane, which had started spinning. Later he regained control over the plane and went on towards west till he ran out of fuel. Major Garrett bailed out with parachute over England, where the plane crashed into a house in Suffolk.
The body of one of the gunners of the plane, Sgt Sabbath, drifted ashore south of Stenbjerg landing place on 25 September, 1944. The Wehrmacht buried the airman on the upper part of the beach on 27 September. With permission from the German Wehrmacht the
body was moved to Stenbjerg Churchyard on 2 January, 1945, where the burial was carried out by vicar Poul Nielsen.
Disinterred and sent to the USA on 4 May, 1948." (FAF) - but his gravestone is still here at Stenbjerg Kirke together with other old gravestones.
Like nearly all other American airmen buried in Denmark he was taken to Ardennes American Cemetery.
His name is not in the ABMC records, so most likely he was buried in a private cemetery in the U.S.A.

See En amerikansk soldats skæbne (The Destiny of an American Soldier) in Danish but with letters in English and photos.

From 34th Bomb Group Mission Diary for AUGUST 1944: Missions #48-#63 compiled by Gary L. Ferrell
Mission #63: B-24J 44-40443 D/D With the 4BS. Pilot: Mackey. Unnumbered Missing Air Crew Report. 9 Killed in Action, 1 Returned to Duty. This plane was hit by flak
in #1 engine causing considerable loss of fuel. Engineer reported only three minutes fuel remaining so the crew was ordered to bail out. Nine men did bail out but Major Garrett was unable to leave when the plane went into a spin. He was able to right the plane and decided to fly until the fuel ran out. The plane did reach England and
Major Garrett bailed out and the plane crashed into a house at Holt, Suffolk. Fortunately there were no injuries to anyone on the ground. Salvaged with battle damage
This B 24 Liberator belonged to 34th Bombardment Group . 4th BS, 34th BG, 93rd CBW, 3rd BD, 8 AF, USAAF. It took off from Mendlesham Airfield, Station 156.
10 airmen.