Andrew A. Dyke Photo: AS 05 MAY 2016 Photo: AS 25 MAY 2015 Updated: 30 AUG 2016 Andrew A. Dyke 1948 - Ardennes, B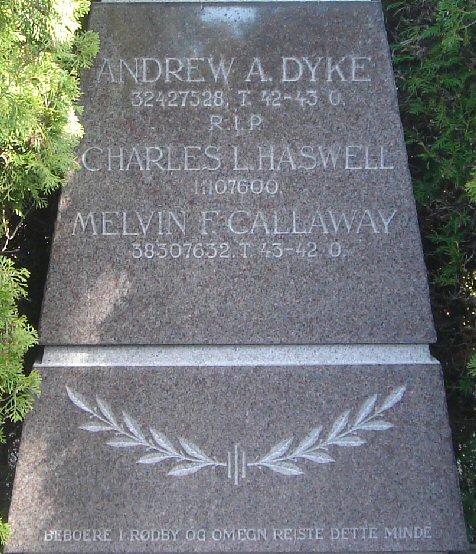 Airman: u079001.htm Surname: Dyke Init: A A Rank: T/Sgt Service: USAAF Sqdn: 427 P_link: p236.htm Plane: B17 42-5221 Operation: Bomb G Crash_site: The Baltic Sea Crash_d: d091043 Buried_d: b201143 C_link: c079.htm At_Next: Rødby

Under et bombetogt til Anklam (her) i Tyskland den 9. oktober 1943 styrtede en "Flyvende Fæstning" B17 42-5221
i Østersøen syd for Lolland, måske omkring her. Tilsyneladende omkom hele besætningen, 10 mand.
Liget af flyets maskinist, A.A. Dyke, blev den 19. november 1943 fundet 4 sømil fra Rødbyhavn af fisker Viggo Hansen, Nysted, i kutter N. 52 "Minna". Flyveren blev begravet den 20. november 1943 af katolsk præst Klessens fra Maribo. (Kilde: FAF)
Efter krigen blev han ført til Belgien. Han kom i tjeneste fra New York.
Begravet i Ardennes American Cemetery Row 39 Grave 17. Hæderstegn: Air Medal, Purple Heart. (Kilde: ABMC)

"Gravsten med navnene på 3 amerikanske flyvere, hvoraf de 2 blev hjemført i 1948. Charles L. Haswell, begravet 22.7.1944, er dermed den eneste af flyverne, der fortsat
er begravet på stedet.
Gravstenen er rejst af De Danske Forsvarsbrødre, Rødby afd., 15.6.1945." (KM)
7 flyvere fra B17 42-5221 har ingen kendt grav. 1 blev begravet i Tyskland, 1 i Rødby
og 1 i Esbjerg.
Alle 3 blev senere flyttet til Belgien eller USA. Se B-17 Flyvende Fæstning*
B17 i airmen.dk*besætningen på en B-17. 10 flyvere.

During a bombing raid to Anklam (here) in Germany on 9 October 1943 a "Flying Fortress" B17 42-5221 crashed in the Baltic Sea south of Lolland, maybe about here. Apparently all of the crew, 10 men, perished.
The body of Flight Engineer A.A. Dyke was found on 19 November 1943 4 nautical miles from Rødbyhavn by fisherman Viggo Hansen, Nysted, in cutter N. 52 "Minna".
The airman was buried on 20 November, 1943 by Catholic priest Klessens from Maribo. (Source: FAF) After the war he was taken to Belgium.
He entered the Service from New York. He is buried in Ardennes American Cemetery
in BELGIUM at Plot B Row 39 Grave 17.Awards: Air Medal, Purple Heart. (ABMC)

"Gravestone with names of 3 American airmen. 2 of them were taken home in 1948. Charles L. Haswell, buried 22.7. 1944, is the only one of the airmen who still rests here. The gravestone was erected by The Danish Defence Brothers, Rødby branch, 15.6. 1945." (KM)

7 airmen from B17 42-5221 have no known grave. 1 was buried in Germany, 1 in Rødby and 1 in Esbjerg. All 3 of them were later moved to Belgium or the USA.
This B-17 belonged to 427 BS, 303 BG, 41 CBW, 1 BD, 8 AF of USAAF. It took off from RAF Molesworth - USAAF Station 107.
See 303rd Bomb Group Heavy with the Mission Report No. 76 of Oct 9 1943 about this crew and B17s in airmen.dk and a drawing of the crew of a B-17.