Wymond B. Ridge Photo: AS 25 MAY 2015 Updated: 18 JUN 2015 1948 - Ardennes, BELGIUM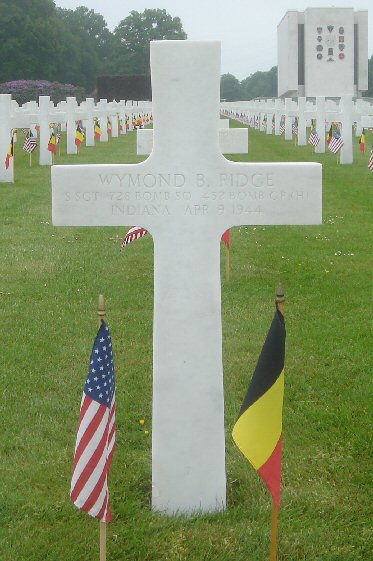 Airman: u069026.htm Surname: Ridge Init: W B Rank: S/Sgt Service: USAAF Sqdn: 728
P_link: p277.htm Plane: B17 42-31352 Operation: Bomb G Crash_site: The Baltic Sea
Crash_d: d090444 Buried_d: b230644 C_link: c069.htm At_Next: Odense

Mere end 500 amerikanske bombefly var den 9. april 1944 på bombetogt til Polen og Tyskland.
Se 8 af de tabte fly: Google Map 9APR1944.
Den 9. april 1944 styrtede B17 42-32-31352 i Østersøen i forbindelse med et bombetogt til
Poznan (her), måske omkring her sydvest for Lolland.
MACR (Rapport om savnet fly) fastslår at flyet "sidst blev set omkring 54o35'N/11o10'E"
(14 km sydvest for Rødbyhavn).

Staff Sergeant (Engineer) Wymond B. Ridge blev fundet drevet ind på Romsø (her) den 22. juni 1944. Han blev næste dag begravet i Odense. "Begravelsen fandt sted den 23. juni 1944 kl. 9.15, idet
tyskerne også i dette tilfælde fremrykkede tidspunktet for bisættelsen, således at ingen officielle
danske embedsmænd fik lejlighed til at deltage. Fra tysk side deltog kun 5 soldater, hvorfor kirkegårdens personale måtte deltage i ligbæringen. Jordfæstelsen foregik uden gejstlig medvirken.
Kapellets klokke, der havde lydt ved alle foregående begravelser af allierede flyvere, lød også denne sidste gang." (FAF)
I maj 1948 blev han og andre Amerikanske flyvere ført til Ardennes American Cemetery i Belgien.
Der blev han begravet, Plot B Row 39 Grave 7.
Hæderstegn: Air Medal, Purple Heart. Han kom i tjeneste fra Indiana. (Kilde: ABMC)

Se tegning af besætningen på en B-17, Foto af en B-17 + B-17 i airmen.dk samt B-17 Ball Turret, Ammunition og Ball Turret Gunner. 10 flyvere.

On 9 April 1944 more than 500 American bombers were on a bombing raid on Poland and
Germany. See 8 of the lost planes: Google Map 9APR1944.
On 9 April 1944 B17 42-32-31352 crashed into the Baltic Sea in connection with a bombing raid
on Poznan (here), maybe about here south west of Lolland.
The MACR (Missing Air Crew Report) states that it was "last sighted approx. at 54o35'N/11o10'E"
(14 km SW of Rødbyhavn).

Staff Sergeant (Engineer) Wymond B. Ridge was found drifted ashore on Romsø (here) on 22 June 1944. On the next day he was buried in Odense.
"The burial took place on 23 June 1944 at 9.15, as the Germans also in this case hastened the time of the funeral service, so that no official Danish civil
servant had an opportunity to attend the ceremony. From the German side there were only 5 soldiers, so the staff of the cemetery had to take part in
carrying the coffin. The interment was without ecclesiastical assistance. The bell of the chapel of rest, which had sounded at all previous burials of
allied airmen, also sounded for Ridge, the last allied airman to be buried here." (FAF)
In May 1948 he and other American airmen from Odense were taken to Ardennes American Cemetery in BELGIUM.
He stills rests there. He entered the Service from: Indiana. Buried at: Plot B Row 39 Grave 7. Awards: Air Medal, Purple Heart. (Source: ABMC)

This B-17 was from 728 BS, 452 Bomb Group (Heavy), 45 CBW, 3 BD. See 452nd Bombardment Group. B-17 42-31352 at the American Air Museum.
It took off from RAF Deopham Green - USAAF Station 142. See also B17s in airmen.dk and a drawing of the crew of a B-17. 10 airmen.