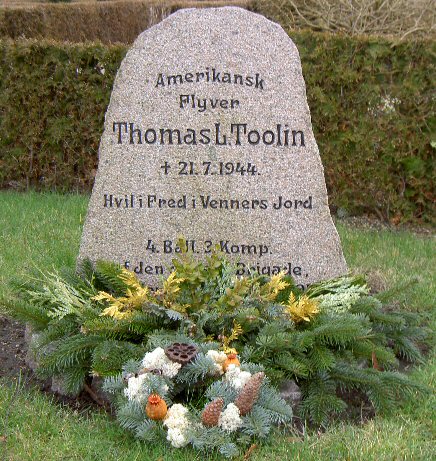 Thomas Leo Toolin Photo: Knud Riis Updated: 26 FEB 2015

Airman: u039001.htm Surname: Toolin Init: T L Rank: 2ndLt Service: USAAF Sqdn: 561
P_link: p248.htm Plane: B17 42-31084 Operation: Bomb G Crash_site: The North Sea.
Crash_d: d201243 Buried_d: b210744 C_link: c039.htm At_Next: (Højer)

"Under et bombetogt den 20. december 1943 med Bremen som mål så man fra formationen kl. 12.12, at et B-17 fly sakkede bagud med kroppen i flammer.
Flyets bombekaster, T.L. Toolin, drev i land som lig ved Emmerlev Klev (måske omkring her,
overblik her) og blev den 21. juli 1944 begravet på kirkegården af værnemagten uden gejstlig medvirken. Resten af besætningen, 9 mand, synes at være omkommet." (FAF)
Amerikansk Flyver Thomas L. Toolin, 21.7.1944. (dato for begravelsen)
Hvil i Fred i Venners Jord.
4. Batt. 3. Komp. af den danske Brigade
satte denne sten den 5.6.1945
Thomas L. Toolin blev hjemført til USA 27. april 1948. Hans navn er ikke i registret hos ABMC, så mest sandsynligt blev han begravet på en privat kirkegård i USA.
Gravstenen er nu en mindesten. Gravstedet vedligeholdes på menighedsrådets bekostning. (Kilde: FAF) Se dekoration for sommeren.

1 flyver fra B17 42-31084 blev begravet i Højer i Danmark. 2 er nu begravet i Belgien
og 2 i USA. 5 flyvere har ingen kendt grav.
Se tegning af besætningen på en B-17, Foto af en B-17 + B-17 i airmen.dk samt
B-17 Ball Turret, Ammunition og Ball Turret Gunner. 10 flyvere.

"During a bombing raid targeting Bremen on 20 December, 1943 a B-17 was seen from the formation falling behind with the fuselage in flames.
The body of bombardier T.L. Toolin was washed ashore at Emmerlev Klev (maybe about here, overview here) and was on 21 July, 1944 buried in the cemetery
by the Wehrmacht without ecclesiastical assistance. The rest of the crew, 9 men, appear to have perished." (FAF)
American airman Thomas L. Toolin, 21.7.1944. (date of burial)
Rest in peace in the ground of friends.
4th Battalion 3rd Company of the Danish Brigade erected this stone 5.6.1945.
Thomas L. Toolin was taken home to the USA on 27 April 1948. His name is not in the ABMC records, so most likely he was buried in a private cemetery in the U.S.A.
The gravestone is now a memorial stone. The plot is kept at the expense of the parish council. (Source: FAF) See decoration for summer.
1 airman from B17 42-31084 was buried in Højer, Denmark. Now 2 are buried in BELGIUM and 2 in the USA. 5 airmen have no known grave.
See a drawing of the crew of a B-17, Photo of a B-17 + B-17s in airmen.dk and B-17 Ball Turret, Ammunition and the story of a Ball Turret Gunner.
B17 42-31084 was from 561 BS, 388th Bomb Group, 45 CBW and 3 BD. This B-17 Flying Fortress took off from RAF Knettishall - USAAF Station 136.
See also 388th Bombardment Group Association.
10 airmen.