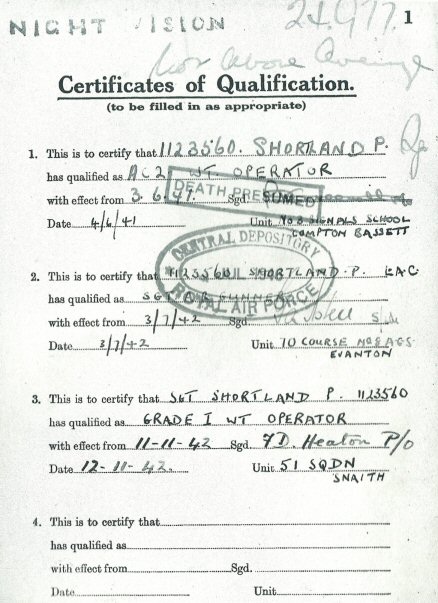 Sgt Peter Shortland's logbog er et officielt dokument, der viser
hans opnåede resultater. En del sider om træning er udeladt her.

Hans detaljerede angivelser af alle flyvninger viser, at han før sit
sidste bombetogt mod Stettin havde fløjet 128 timer og 40 minutter
om dagen og 129 timer og 40 minutter om natten.

Operationerne angives normalt kun med flyvetid. Tænk hvordan
disse operationer har været, antal timer og minutter er angivet:
"27.3.1943 BERLIN. Vendte om, da maskingeværerne frøs.
Natjager sandsynligvis ødelagt; med 1 maskingevær."
"14.4.1943 STUTTGART Vendte tidligt om grundet overisning.
Bombede den franske kyst ved Dieppe. 03.30"
"16.4.1943 SKODA FABRIKKERNE PILSEN.
Landede på TANGMERE på 2 motorer. 09.15"

Logbogen blev sendt til Sgt Peter Shortland's familie.
Dennis Stainforth sendte den videre til 51 Squadron.

Sgt Peter Shortland's log book is an official document stating
his qualifications. A number of pages about training are omitted here.

His detailed records of all flights show that before his final
bombing raid targeting Stettin he had flown 128 hours and 40
minutes in daylight and 129 hours and 40 minutes at night.
The operations are normally described only with flying time.
Imagine how these operations were, hours and minutes indicated:
"27.3.1943 BERLIN. Turned back owing to frozen guns.
Night fighter probably destroyed; with 1 gun. 02.40"
"14.4.1943 STUTTGART Returned early owing to icing.
Bombed French coast at Dieppe. 03.30"
"16.4.1943 SKODA WORKS PILSEN.
Landed at TANGMERE on 2 engines. 09.15"
The log book was sent to Sgt Peter Shortland's family.
Dennis Stainforth passed it on to 51 Squadron.
Peter Shortland
Certificates of
Qualification
Assessments
Training
3.9.42 - 2.10.42
6.10.42 - 11.10.42
18.11.42 - 21.11.42
21.12.42 - 29.12.42

Operations
2.1.43 - 29.1.43
Gardening
Lorient
3.2.43 - 16.2.43
Hamburg
Lorient
Cologne
18.2.43 - 19.2.43
Wilhelmshaven
Wilhelmshaven
1.3.43 - 29.3.43
Berlin
St. Nazaire
Berlin
3.4.43 - 15.4.43
Frankfurt
Stuttgart
16.4.43 - 17.4.43
Pilsen
20.4.43 Stettin
HAL DT628 lost!
Stettin APR 1943
Ops of his crew