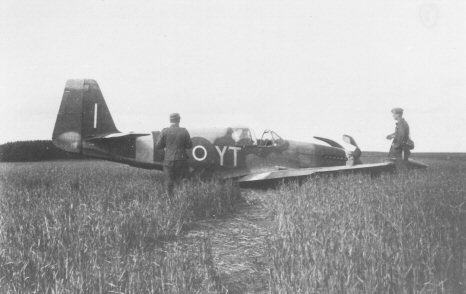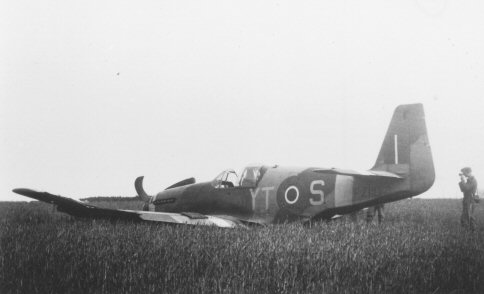 8 Mustangs angreb tyske fly ved Aalborg den 17. maj 1944. MUS FZ110 nødlandede ved Hjallerup her. Piloten F/Sgt Rowland T. Williams
nåede Sverige efter en lang tur.
Se Flugtruten - en del af artiklen Rowland T. Williams' Danmarksbesøg i foråret 1944 af Verner Jensen, Ole Rønnest og Jørgen Peder Clausager
i Årbog 1992 fra Sæby Museum - nu en del af Nordjyllands Kystmuseum.
Disse fotos vises med denne tekst:
Rowlands fly efter nødlandingen - ved mavelandingen blev propelbladene bøjet, men ellers er flyet næsten uskadt.
Som det ses er de tyske vagtposter meget optaget af at fotografere flyet og hinanden.

8 Mustangs attacked German planes at Aalborg on 17 May 1944. MUS FZ110 crash landed at Hjallerup here. Pilot F/Sgt Rowland T. Williams
reached Sweden after a long journey.
See the escape route - a part of the article Rowland Williams' Visit to Denmark during the Spring of 1944
by Verner Jensen, Ole Rønnest and Jørgen Peder Clausager in Yearbook 1992 from Sæby Museum - now a part of Nordjyllands Kystmuseum.
These photos are shown with this text:
Rowland's aircraft after the emergency landing - at the belly landing the propeller blades were bent, but otherwise the aircraft is almost intact.
As can be seen, the German guards are very busy taking photos of the aircraft and of each other.