Lancaster I HK537 - Near Mjels - Propeller Updated: 22 SEP 2008
Photo: Gunnar Hounsgaard Photo: Hans Andersen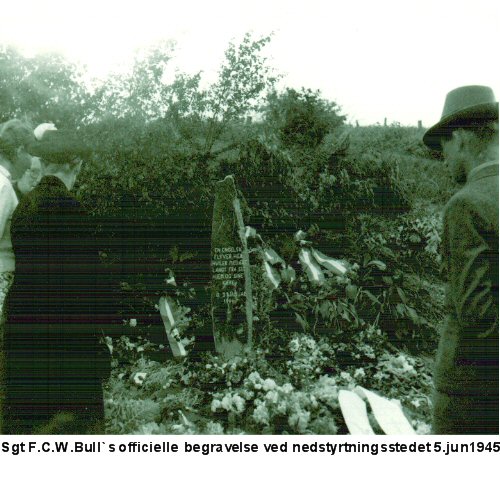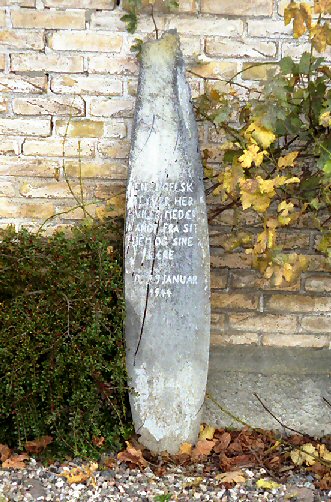 Et af de omkomne besætningsmedlemmer fra LAN HK537 ,
Sgt Bull, blev ca. 2 uger efter nedstyrtningen fundet dræbt i et læhegn på Pommersgårds jord. Da ejeren, gårdejer Sørensen, ikke ønskede at få tyskere på gården igen, begravede han liget i et hjørne af marken, her.
Stedet blev pyntet op og markeret med dette propelblad med teksten

En engelsk flyver her hviler med ære langt fra sit hjem og sine kære. Den 29. januar 1944
Den 5. juni 1945 blev stedet indviet som gravsted, men senere overførtes liget af Sgt Bull til Aabenraa. (Kilde: FAF) Propelbladet er nu her på Pommersgård, Færgevej 50, 6430 Nordborg.



One of the perished crew members from LAN HK537, Sgt Bull, was found about 2 weeks after the crash in a windbreak on Pommersgaard´s land. As farmer Sørensen did not want to have Germans on the farm again, he buried the body in a corner of the field, here.
The place was decorated and marked with this propeller blade saying
An English airman here rests with honour far from his home and his loved ones. 29 January 1944.
The place was consecrated as a grave on 5 June 1945, but later the body of Sgt Bull was transferred to Aabenraa. (Source: FAF) The propeller blade is now here at Pommersgaard, Færgevej 50, DK-6430 Nordborg.