B 17G 42-37718 - Alstrup, Samsø - Monument Updated: 04 MAR 2009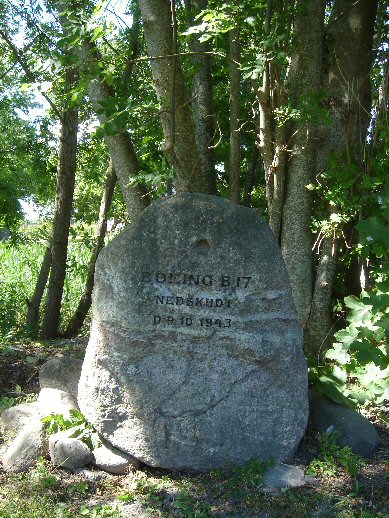 BOEING B 17 NEDSKUDT D. 9-10 1943

B17 42-37718 styrtede her ved Alstrup 8, 8305 Samsø og startede en kæde af begivenheder.

Denne mindesten blev rejst her i 1993 (siger lokale kilder) ved nedstyrtningsstedet.

Se et propelblad og øjenvidneberetning og se dele af flyet. Stedet i Google Maps.
Se interview med 2. pilot Miles C. McCormack og et
avisinterview med navigatør Carl A. Groosbeck, tekster og fotos fra Aage Snedker.

BOEING B 17 SHOT DOWN ON 9 OCTOBER, 1943
B17 42-37718 crashed here at Alstrup 8, DK-8305 Samsø and started a chain of events.
This memorial stone was erected here in 1993 (local sources tell) at the crash site.
See eye witness account and see parts of the plane.
See an interview with Co Pilot Miles C. McCormack and another
interview with Navigator Carl A. Groosbeck, texts and photos from Aage Snedker.