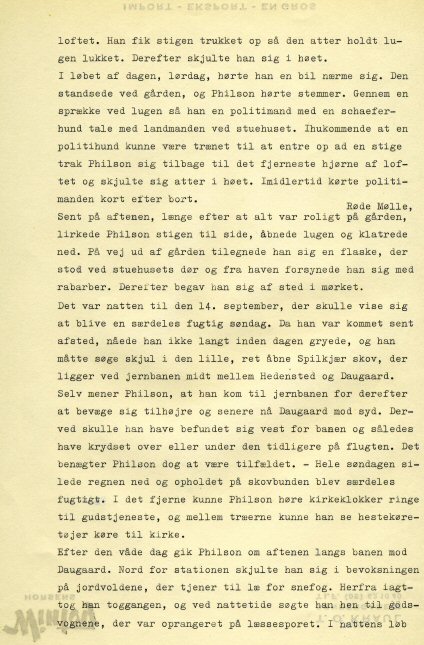 Skrevet af Ole Kraul i 1980 eller senere. Google Map p047 Hampden AE300

Written by Ole Kraul in 1980 or later. Google Map p047 Hampden AE300
He pulled up the ladder so that it again kept the hatch closed. Then he hid in the hay.
During that Saturday he heard a car getting closer. It stopped at the farm and Philson heard voices. Through a crack by the hatch he saw a policeman with a German shepherd dog
talking to the farmer at the farmhouse. Remembering that a police dog might be trained to
climb a ladder he went to the farthest corner of the loft and hid in the hay again. However, the policeman drove away shortly after.
Late in the evening, long after everything was quiet on the farm (Røde Mølle) Philson worked
the ladder aside, opened the hatch and climbed down. On his way out of the farm he took a bottle at the door of the farmhouse and from the garden he helped himself to some sticks of rhubarb. Then he set out in the darkness.
It was the night before 14 September which turned out to be a particularly wet Sunday.
As he had left rather late he did not get far before daybreak and he had to seek shelter in
the small rather open Spilkjær wood by the railway between Hedensted and Daugaard.

Philson himself thinks that he came to the railroad and then went to the right and later
reached Daugaard further south. In this case he would necessarily have been west of the
railway and then have crossed over or under it earlier on his escape. However, Philson
denies that this was the case.
The rain was pouring down monotonously all Sunday and his stay on the forest floor became very wet. Philson heard distant church bells ringing for service and between the trees he saw horse-drawn carriages heading for church.

After the wet day, in the evening Philson walked along the railway towards Daugaard. North
of the station he hid in the vegetation on the banks of earth serving as a snow fence. From
here he observed the trains passing by and at night he walked to the goods vans that were parked on the track for loading. During the night