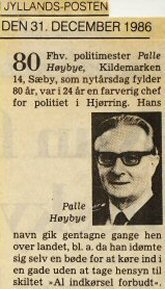 Jyllands-Posten 31 December 1986
80 Former Police Chief Constable Palle Høybye, Kildemarken 14, Sæby, who on New Year's Day celebrates his 80th Anniversary,
was for 24 years a colourful head of the police in Hjørring. His name was repeatedly mentioned across the country. One of the times
was when he imposed a fine on himself for driving into a street regardless of the sign NO ENTRY.
Palle Høybye graduated in law in 1931, became a police constable in 1932 and in 1934 he was appointed assistant chief constable.
From 1939 he was the superintendant of police in Horsens. In 1953 he was appointed Chief Constable in Hjørring, a position from
which he retired in 1977. During the Occupation Palle Høybye was an active member of the Resistant Movement. He started a school
for saboteurs in a scout hut on the island of Venø. Besides his job in the police Palle Høybye has always been very interested in
tourism and he has been the chairman of the Hjørring Tourist Association and of the Tourist Associations of Vendsyssel. He has been
a member of the committee of Co-operative Tourist Associations of Jutland. In his retirement he has devoted himself to journalism as
a correspondent of Sæby Folkeblad and he is a teacher at the AOF in Sæby. Besides he is a member of the board of Friends of the Vendsyssel Festival.
* * *
J.A.S. Philson finished an email to www.airmen.dk on 13 January 2012 in this way: PS One amusing detail comes to mind.
When I was being interrogated by Palle Hoybye in a little room at the Daugaard Inn. A respectful knock at the door, revealed a policeman reporting in. Followed by a
word or two exchanged between Palle and the policeman, with Palle giving his accept...
The policeman then produced a scrap of paper and asked me for my autograph! - and withdrew. A few minutes later the same thing was repeated, several times. Eventually one man could not find a piece of paper but, not to be denied the autograph requested that I sign on the edge of his Identity Card! He quipped that his wife would not know to whom she was married, when he showed it to his wife, that evening!
I was amazed by the informality on this occasion, knowing Palle Hoybye for whom I have always had the highest admiration.
That was a very personal insight into the relationship between Palle and his men.
* * *
In 1984 Palle Høybye had a Christmas greeting from Philson who referred to the events in Daugaard:
"I am naturally grateful to you all for the encouragement you gave me that day in Daugaard - I wonder if you realize what you did for me.
It gave me the will to escape - which I did and although I was recaptured after eight days I became a member of an escape committee
and helped others while preparing myself for yet another attempt. It took some effort and not a little fun to get a fair knowledge of the
German language (I hope you can read my writing) but you were there in my thoughts with the hope that we could meet again."
When Philson learned about the renewed interest in events in 1941 he wrote to www.airmen.dk on 28 January 2012:

"I wish you all well in the Stouby exhibition of Handley Page Hampden AE300. I only wish I could be there with you.
Politimaester Palle Hoybye should be remembered with honour & his wife, Margaret. I visited them, as their guest, on several occasions & their youngest daughter,
Else lived with me & my family for six months in Dunblane, Scotland on the 'au pair' arrangement."