From Jyllands-Posten Tuesday 2 September 2008
This article by ASGER WESTH was translated from Danmarkskort over faldne flyvere by KK.
A former history teacher has made a map of Denmark showing where Allied planes crashed or were shot down during the Second World War.
Here there is also information about where the more than 1.000 airmen lie buried today.
The USA and the Commonwealth countries lost 150.000 airmen during the Second World War, and some of them ended their days on Danish ground or in Danish waters.
During the years 1939-1945 a total of 1.167 Allied airmen were buried in Denmark after having been shot down or having crashed - some of them were later washed ashore
on Danish beaches and coasts.
"At the beginning of the German occupation of Denmark the fallen Allied airmen were buried by a German army chaplain. The Germans fired salute, laid wreaths of
flowers, and raised slender wooden crosses. But at the end of the Second World War the fallen Allied airmen were buried on the spot," says Anders Straarup, former
history teacher from Randers.
Starting from the literature available he has spent over a year charting where in Denmark the Allied planes crashed, where the fallen are buried today, and where
monuments have been erected. The outcome is a comprehensive work of reference on the website www.airmen.dk where one can find the exact positions, read of the
individual planes and their crew members, and see pictures of graves and memorials.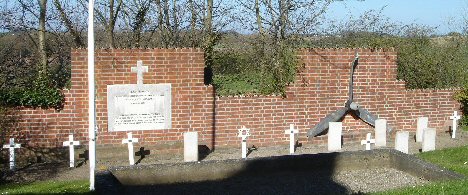 FACTS Fallen airmen
During the years 1939-1945 1.167 Allied airmen were buried in Denmark after their
planes had been shot down - or had crashed - in Denmark.
127 fallen Americans were later disinterred and taken out of the country.
Under 100 surviving crew members from the Allied planes which were shot down or
crashed are assumed to have succeeded in escaping to Sweden.
More than 500 Allied airmen were taken prisoners by the German occupying force,
and another 500 have never been found. They are supposed to have perished in the
waters surrounding Denmark. Read more on www.airmen.dk.

13 British, Canadian, and American airmen were buried in Magleby Churchyard in Langeland.
440 planes crashed
Among the 440 planes which crashed in and near Denmark there were both bombers and fighters as well as planes dropping supplies to members of the Danish
resistance, laying mines, or hunting German submarines.
"It is a story of people of flesh and blood, and I think it is important that the existing knowledge of the Allied airmen becomes available to all who are interested,"
says Anders Straarup.
About the destinies of quite a number of planes and airmen, however, there is scanty information.
"Some planes crashed into the sea, and in the north of Zealand a RAF Mosquito fighter crashed with two men inside. Nobody knows where these two English
airmen are buried since the Germans would not tell," Anders Straarup says.