Charles H. Newman Updated: 11 MAY 2022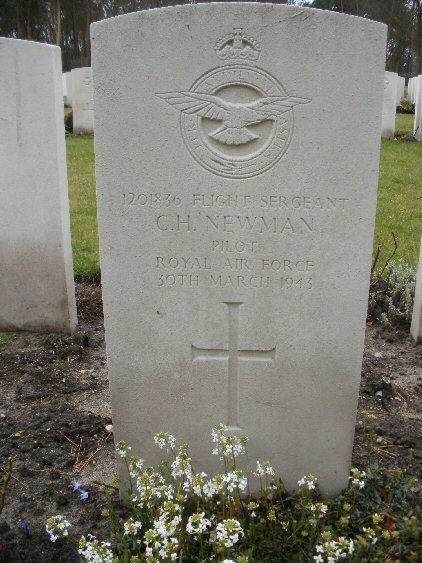 Photo 03 APR 2015 by Henrik Laursen

Airman: e444041.htm Surname: Newman Init: C H Rank: F/Sgt Service: RAF Sqdn: 077
P_link: p145.htm Plane: HAL JB842 Operation: Bomb G Crash_site: The Fehmarn Belt
Crash_d: d300343 Buried_d: e444b C_link: e444b.htm At_Next: Berlin, GER

Den 30. marts 1943 styrtede HAL JB842 i Fehmarn Belt (måske omkring her).

"329 fly angreb Berlin og på grund af vanskelige vejrforhold og dårlig markering af målet mislykkedes angrebet. 21 fly gik tabt. Under indflyvningen til Berlin blev JB842 angrebet
af en tysk natjager, og nær den nordtyske kyst eksploderede flyet i luften, hvorved alle besætningsmedlemmer blev dræbt." (FT 86-88-8)

"Opgave: Nedkastning af brochurer og bomber. Mål: Berlin." (p145MACR)
Flight Sergeant (Pilot) Charles Hugh Newman var fra United Kingdom.
Han blev begravet på BERLIN 1939-1945 WAR CEMETERY 2.L. 12-16 i Tyskland.

1 flyver fra HAL JB842 blev begravet på Svinø og 4 i Berlin. 2 flyvere har ingen kendt grav.
7 flyvere.

On 30 March 1943 HAL JB842 crashed into the Fehmarn Belt (maybe about here).
"329 planes attacked Berlin and due to difficult weather conditions and bad marking of
the target the attack failed. 21 planes were lost. During the bombing run on Berlin JB842
was attacked by a German night fighter, and near the coast of North Germany the plane exploded in the air killing all on board." (FT 86-88-8)
"Mission: Dropping of leaflets and bombing. Target: Berlin." (p145MACR)
Flight Sergeant (Pilot) Charles Hugh Newman was from the United Kingdom.
He is remembered on The Walls of Namesat the International Bomber Command Centre,P2,218
He was buried in BERLIN 1939-1945 WAR CEMETERY 2.L. 12-16 in GERMANY.
1 airman from HAL JB842 was buried at Svinø and 4 in Berlin. 2 airmen have no known grave.
No. 77 Squadron RAF - Wikipedia * 77 Squadron Association * Halifax * Halifax-BC Museum.Canada * Halifax-RAF Museum * Halifax-The Yorkshire Air Museum.
Halifax II JB842 KN-E took off from RAF Elvington at 22.06 hrs on 29 MAR 1943. (Source: Aircrew Remembered has this.) Google Map 77 Squadron DK
49 airmen of 77 Squadron: 23 buried in Denmark, 4 in Germany, 17 no known grave, 1 prisoner of war and 4 airmen evaded to Sweden. 7 airmen.