Marstal 2021 Marstal Kirkegård/Cemetery * p329 B24H 42-95144 USAAF * Photos AUG 2021: Anders Straarup * Updated: 25 AUG 2021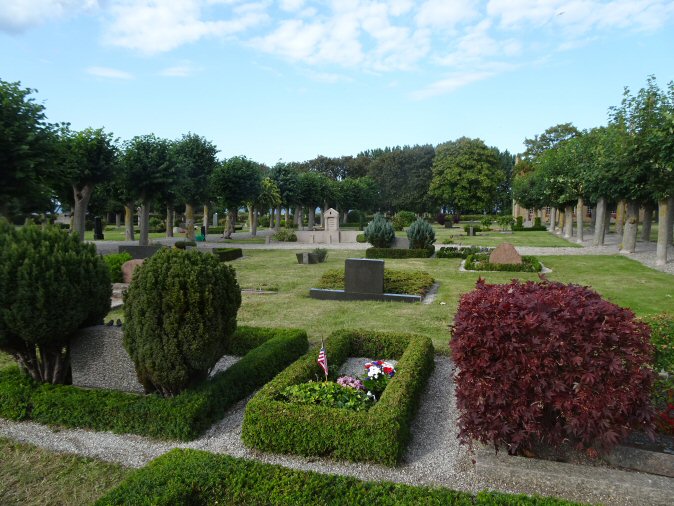 En del af Marstal Kirkegård.
Over det amerikanske flag Stars and Stripes på
Jack E. Wagner's grav ses havet bag træerne.

Efter kransenedlægningshøjtideligheden
fortsatte den fungerende ambassadør og andre
til en tur med et af søværnets skibe til det sted
nær sydspidsen af Langeland, hvor Wagners
fly kolliderede med en anden B-24. Begge fly styrtede i havet. Se mere via linket B-24.
Et af dem blev fundet, men hvilket?

Søværnets Dykkertjeneste arbejder på at finde og
identificere dele af vraget og om muligt dele af omkomne flyvere, hvis man finder nogen dele.

A part of Marstal Cemetery.
Above the Stars and Stripes on the grave of
Jack E. Wagner you see the sea behind the trees.
After the wreath-laying ceremony the acting ambassador and others went by a naval vessel to the site near the south tip of Langeland, where Wagner's plane collided with another B-24. Both planes crashed into the sea. See more via
the link B-24. One of them was found, but which one?
The Fleet Diving Unit work to find and identify
parts of the wreckage and if possible parts of
perished airmen, if any parts are found.