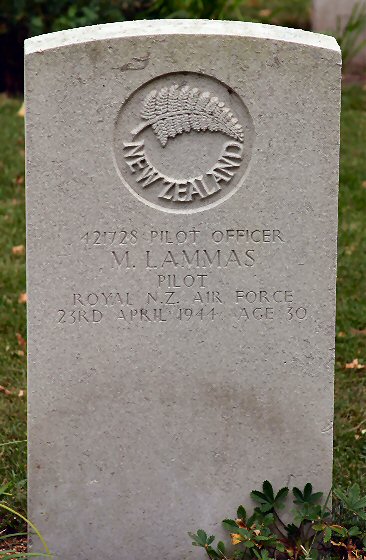 Mauson Lammas Photo: Mogens Jeppesen Updated: 10 OCT 2021

Airman: a113121.htm Surname: Lammas Init: M Rank: P/O Service: RNZAF Sqdn: 75
P_link: p303.htm Plane: STI EF137 Operation: Minelaying Crash_site: Sea E of Tåsinge
Crash_d: d230444 Buried_d: b010544 C_link: c113.htm At_Next: Aabenraa, R 4-3

114 RAF bombefly foretog denne nat mineringer i Østersøen, og 3 Halifaxes og 2 Stirlings gik tabt.
STI EF137 blev skudt ned af en tysk natjager og styrtede i havet øst for Tåsinge omkring her. Hele besætningen omkom. (Kilder: FT 88-40-26 og AOD+p303MACR)
Et monument for flyverne er rejst i Vemmenæs. Se meget mere om Ivar Larson.
"Hele den omkomne besætning blev ført til Aabenraa, hvor begravelsen fandt sted den 1. maj 1944. Jordpåkastelsen forrettedes af en tysk feltpræst." (FAF) Mere ved STI EF137.
Pilot Officer (Pilot) Mauson Lammas, 30 år, var søn af James Arthur Young Lammas og Aimee Sophie Lammas, New Zealand, gift med Rose Lammas, Karamu, Auckland, New Zealand. (Kilde: CWGC)
7 flyvere.

That night 114 RAF bombers carried out minelaying operations in the Baltic Sea, and 3 Halifaxes and
2 Stirlings were lost. STI EF137 was shot down by a German night fighter and crashed into the sea east
of Tåsinge about here. All of the crew perished. (Sources: FT 88-40-26 and AOD+p303MACR)
A monument to the airmen was erected in Vemmenæs. Read much more about Ivar Larson.
All of the perished crew were taken to Aabenraa and buried on 1 May 1944. A German army chaplain officiated at the graveside. (Source: FAF) More at STI EF137.
Pilot Officer (Pilot) Mauson Lammas, 30, was the son of James Arthur Young Lammas and
Aimee Sophie Lammas, New Zealand, and the husband of Rose Lammas, of Karamu, Auckland,
New Zealand. (Source: CWGC)
He is remembered on The Walls of Names at the International Bomber Command Centre, P 2, P196.
See No. 75 Squadron RAF - Wikipedia, in 1946 No. 75 Squadron RNZAF.
75 Squadron Association NZ + UK. Short Stirling. Google Map planesRNZAF.
Stirling III EF 137 AA-E took off from RAF Mepal at 20.42 hrs on 23 APR 1944.
(Source: Aircrew Remembered has this.) 75(nz)squadron has more, also 75(NZ) Squadron RAF Records
from April 1944, find entry of 23.4.1944, and see that this plane with Captain Lammas failed to return.