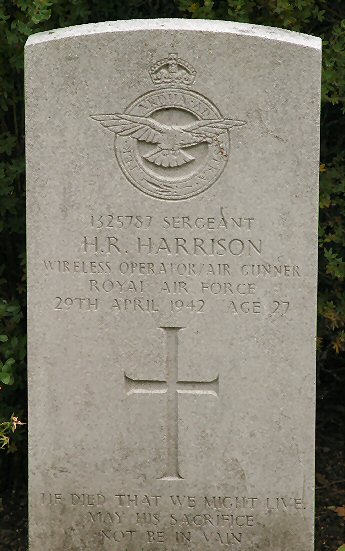 Harold Richard Harrison Photo: Mogens Jeppesen Updated: 25 MAR 2021

Airman: a113017.htm Surname: Harrison Init: H R Rank: Sgt Service: RAF Sqdn: 9
P_link: p069.htm Plane: WEL X3716 Operation: Bomb G Crash_site: Near Holbøl
Crash_d: d290442 Buried_d: b020542 C_link: c113.htm At_Next: Aabenraa, R R 1-10

WEL X3716 styrtede ned nær Holbøl nord for Kruså den 29. april 1942 kl. 01:15 på vej til at bombe Kiel. Alle ombord omkom. (Kilde: p069MACR)
Sergeant (Wireless Operator / Air Gunner) Harold Richard Harrison, 27 år, var søn af Henry og Louisa Harrison, Shirley, Warwickshire; gift med Irene Ada Harrison, Shirley, United Kingdom. (Kilde: CWGC)
De to piloter Sgt Sampson og Sgt Silver synes at være begravet meget tidligt om morgenen den 9. maj 1942
i Aabenraa.
Sgt Ayres, Sgt Harrison, Sgt Mount og Sgt Stevens blev begravet den 2. maj 1942 i Aabenraa. (Kilde: FAF)
Se fotos fra denne begravelse.

Nær nedstyrtningsstedet er der her 400 m nordvest for Holdbi Kro, Åbenråvej 24A, 6340 Kruså rejst et monument. 6 flyvere.

On 29 April 1942 at 01:15 WEL X3716 crashed near Holbøl north of Kruså on its way to bomb Kiel.
All on board perished. (Source: p069MACR)
Sergeant (Wireless Operator / Air Gunner) Harold Richard Harrison, 27, was the son of Henry and
Louisa Harrison, of Shirley, Warwickshire, and the husband of Irene Ada Harrison, of Shirley,
United Kingdom. (Source: CWGC) He died that we might live. May his sacrifice not be in vain
He is remembered on The Walls of Names at the International Bomber Command Centre, Phase 2, P 178.

It is believed that the two pilots Sgt Sampson and Sgt Silver were buried in Aabenraa very early in the
morning of 9 May 1942. Sgt Ayres, Sgt Harrison, Sgt Mount and Sgt Stevens were buried in Aabenraa
on 2 May 1942. (FAF) See photos from this burial.
A monument is here 400 m northwest of Holdbi Kro, Åbenråvej 24A, DK-6340 Krusaa near the crash site.
This Vickers Armstrong Wellington, see also Vickers Wellington, was from No. 9 Squadron RAF - Wikipedia. See also IX (B) Squadron Association.
Wellington III X3716 WS- took off from RAF Honington at 23.07 hrs on 28 APR 1942. (Source: Aircrew Remembered has this.) 6 airmen.