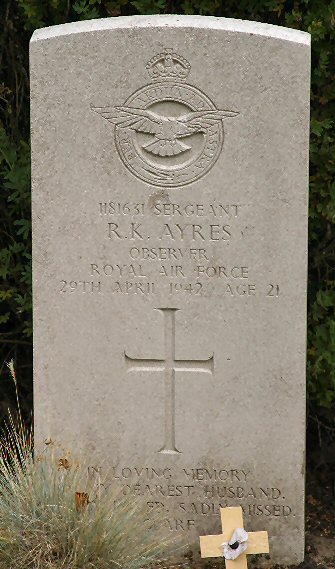 Ronald Keith Ayres Photo: Mogens Jeppesen Updated: 25 MAR 2021

Airman: a113016.htm Surname: Ayres Init: R K Rank: Sgt Service: RAF Sqdn: 9
P_link: p069.htm Plane: WEL X3716 Operation: Bomb G Crash_site: Near Holbøl
Crash_d: d290442 Buried_d: b020542 C_link: c113.htm At_Next: Aabenraa, R 1-9

WEL X3716 styrtede ned nær Holbøl nord for Kruså den 29. april 1942 kl. 01:15 på vej til at bombe Kiel.
Alle ombord omkom. (Kilde: p069MACR)

Sergeant (Observer) Ronald Keith Ayres, 21 år, var søn af Herbert George og Alice Kate Ayres; gift med
Clara Florence Ayres, Walton-on-Thames, Surrey, United Kingdom. (Kilde: CWGC)
De to piloter Sgt Sampson og Sgt Silver synes at være begravet meget tidligt om morgenen den 9. maj 1942
i Aabenraa.
Sgt Ayres, Sgt Harrison, Sgt Mount og Sgt Stevens blev begravet den 2. maj 1942 i Aabenraa. (Kilde: FAF)
Se fotos fra denne begravelse.

Nær nedstyrtningsstedet er der her 400 m nordvest for Holdbi Kro, Åbenråvej 24A, 6340 Kruså rejst et monument. 6 flyvere.

On 29 April 1942 at 01:15 WEL X3716 crashed near Holbøl north of Kruså on its way to bomb Kiel.
All on board perished. (Source: p069MACR)
Sergeant (Observer) Ronald Keith Ayres, 21, was the son of Herbert George and Alice Kate Ayres, and
the husband of Clara Florence Ayres, of Walton-on-Thames, Surrey, United Kingdom. (Source: CWGC)
In loving memory of my dearest husband. Deeply loved, sadly missed. Clare
He is remembered on The Walls of Names at the International Bomber Command Centre, Phase 1, Panel 4.

It is believed that the two pilots Sgt Sampson and Sgt Silver were buried in Aabenraa very early in the
morning of 9 May 1942. Sgt Ayres, Sgt Harrison, Sgt Mount and Sgt Stevens were buried in Aabenraa
on 2 May 1942. (Source: FAF) See photos from this burial.
A monument is here 400 m northwest of Holdbi Kro, Åbenråvej 24A, DK-6340 Krusaa near the crash site.
This Vickers Armstrong Wellington, see also Vickers Wellington, was from No. 9 Squadron RAF - Wikipedia. See also IX (B) Squadron Association.
Wellington III X3716 WS- took off from RAF Honington at 23.07 hrs on 28 APR 1942. (Source: Aircrew Remembered has this.) 6 airmen.