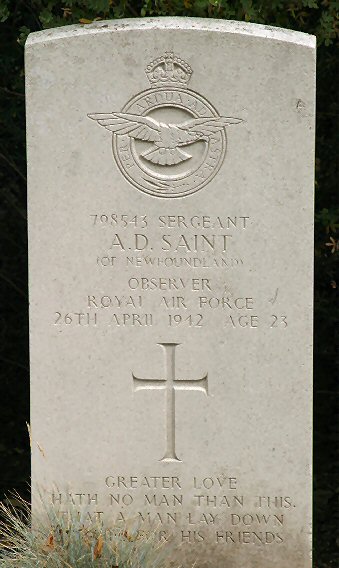 Alexander Duncan Saint Photo: Mogens Jeppesen Updated: 25 DEC 2018

Airman: a113013.htm Surname: Saint Init: A D Rank: Sgt Service: RAF Sqdn: 115
P_link: p066.htm Plane: WEL X3633 Operation: Bomb G Crash_site: Near Bevtoft
Crash_d: d260442 Buried_d: b050642 C_link: c113.htm At_Next: Aabenraa, R 1-6A

"På bombetogt mod Rostock nedstyrtede et Wellington fly den 26. april 1942 ved Bevtoft, øst for
Toftlund. Alle om bord blev dræbt. De 6 dræbte flyvere blev begravet den 6. maj 1942 kl. 06.30. Marinepræst Graumann, Flensborg, foretog jordpåkastelsen." (FAF) Sandsynligvis var det på samme måde som
En begravelse 4 dage tidligere.
Sergeant (Observer) Alexander Duncan Saint, 23 år, britisk statsborger, var søn af Wilfred og
Drusilla Saint, Bonavista, Newfoundland, Canada. (Kilde: CWGC)
Se monument for besætningen på WEL X3633.
6 flyvere.

A Wellington crashed on 26. april 1942 at Bevtoft, east of Toftlund on a bombing raid to Rostock.
All aboard perished. The 6 killed airmen were buried on 6 May 1942 at 06:30. Navy Chaplain Graumann, Flensburg, officiated at the graveside. (Source: FAF) Probably it was in the same way as A burial 4 days earlier.
Sergeant (Observer) Alexander Duncan Saint, 23, a citizen of the UK, was the son of Wilfred and
Drusilla Saint, of Bonavista, Newfoundland, Canada. (Source: CWGC)
Greater love hath no man than this. That a man lay down his life for his friends
See monument to the crew of WEL X3633.
This Vickers Armstrong Wellington, see also Vickers Wellington,
was from No. 115 Squadron RAF - Wikipedia.
Wellington III X3633 KO-Y took off from RAF Marham at 22.23 hrs on 25 APR 1942.
(Source: Aircrew Remembered has this.)
6 airmen.