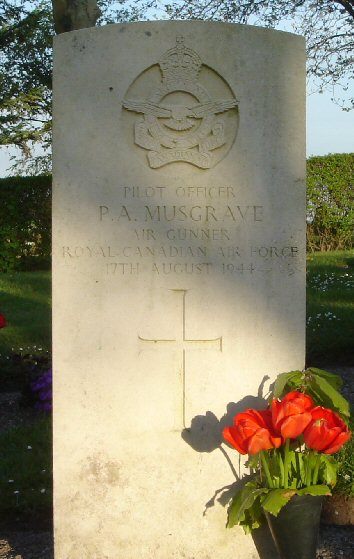 Philip Arthur Musgrave Updated: 24 AUG 2015
Airman: a096048.htm Surname: Musgrave Init: P A Rank: P/O Service: RCAF Sqdn: 405
P_link: p344.htm Plane: LAN PA988 Operation: Bomb G Crash_site: Near Allindemagle
Crash_d: d170844 Buried_d: b170844 C_link: c096.htm At_Next: Svinø

Den 17. august 1944 kl. 01.45 styrtede LAN PA988 ned nær Allindemagle (her). Flyet eksploderede
i luften og blev spredt over et stort område. Se steder i Google Map p344. Flyvehistorisk Tidsskrift skriver:
"461 Lancasters skulle bombe Stettin (Szczecin her), medens 348 RAF bombefly minerede i Østersøen. RAF's samlede tab denne nat var 9 Lancasters og 6 Halifaxes. Lancaster PA988 blev angrebet og skudt
i brand over Sjælland af en tysk Me410. Mid-upper gunner, P/O Philip Arthur Musgrave, blev dræbt under angrebet, men det lykkedes resten af besætningen af forlade det brændende fly med faldskærm.
To flyvere blev hurtigt taget til fange af tyskerne, men det lykkedes de resterende fire at få kontakt med modstandsbevægelsen, og efter 10-14 dage var de samlet i Sverige." (FT 88-41-29)
Pilot Officer (Air Gunner) Philip Arthur Musgrave var fra Canada. (Kilde: CWGC)
1 flyver fra LAN PA988 blev begravet på Svinø Kirkegård og 2 blev taget til fange, men det lykkedes
4 flyvere at nå Sverige. Mere ved hver enkelt flyver. 7 flyvere.

On 17 August 1944 at 01.45 hours LAN PA988 crashed near Allindemagle (here). The plane exploded
in the air and was scattered over a large area. See places in Google Map p344.
(Danish) Aviation Historical Review writes:
"461 Lancasters were to bomb Stettin (Szczecin here) while 348 bombers from the RAF were on mine-
laying operations in the Baltic Sea. This night the total losses of the RAF were 9 Lancasters and
6 Halifaxes. Lancaster PA988 was attacked over Sjælland by a German Me410. It was hit and caught fire. P/O (Mid Upper Gunner) Philip Arthur Musgrave was killed during the attack, but the rest of the crew managed to bail out. Soon 2 airmen were captured by the Germans, but the remaining 4 airmen managed
to contact the resistance movement. After 10-14 days they were together in Sweden." (FT 88-41-29)
Pilot Officer (Air Gunner) Philip Arthur Musgrave was from Canada. (Source: CWGC)
The Canadian Virtual War Memorial has this with photos.

1 airman from LAN PA988 was buried in Svinø and 2 were captured, but 4 airmen managed to reach Sweden. More at each airman.
See Bomber Command No. 405 Squadron RCAF * 405 Squadron - The Canadians * No. 405 Squadron of Canadian Wings * Lancaster photos
This Canadian Lancaster took off from RAF Gransden Lodge. 7 airmen.