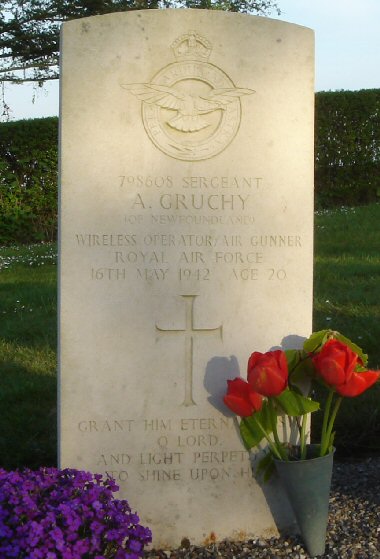 Albert Gruchy Updated: 25 MAR 2021
Airman: a096002.htm Surname: Gruchy Init: A Rank: Sgt Service: RAF Sqdn: 9
P_link: p079.htm Plane: WEL Z1615 Operation: Minelaying Crash_site: Nakskov Fjord
Crash_d: d160542 Buried_d: b200542 C_link: c096.htm At_Next: Svinø



Den 16. maj 1942 kl. 02.21 styrtede WEL Z1615 ned på Malø grunden i Nakskov Fjord
(omkring her) på vej til minelægning i den sydlige del af Storebælt (her).

Flyvehistorisk Tidsskrift skriver:
"50 fly foretog mineringer i den vestlige del af Østersøen, og 2 Hampdens og 2 Wellingtons gik tabt. Wellington Z1615 blev skudt ned af flak fra »Flugwache 6« nær Langø (her) SV for Nakskov havn.
Sgt. Albert Gruchy blev såret af flaksplinter og senere dræbt da forreste tårn knustes, idet flyet tog vandoverfladen. - Liget af Sgt. Gruchy blev næste dag bjærget af en båd fra »Falck«, og han blev begravet på Svinø kirkegård den 20. maj." (FT 86-87-4) p079MACR
Flight Sergeant (Wireless Operator / Air Gunner) Albert Gruchy, 20 år, britisk statsborger, var søn
af Albert og Elizabeth Maria Gruchy, St. John's Newfoundland. (Kilde: CWGC)
1 flyver fra WEL Z1615 blev begravet på Svinø Kirkegård. 4 flyvere blev ført til Tyske krigsfangelejre.
5 flyvere.

On 16 May 1942 at 02.21 hours WEL Z615 crashed on the Malø shoal in the Nakskov Fjord
(about here) on its way to a minelaying operation in the southern part of the Storebælt (here).

(Danish) Aviation Historical Review writes:
"50 planes were on minelaying operations in the western part of the Baltic Sea, and 2 Hampdens
and 2 Wellingtons were lost. Wellington Z1615 was shot dowm by flak from »Flugwache 6« near
Langø (here) south west of Nakskov Harbour. Sgt Albert Gruchy was injured by splinters of flak and
later killed when the front turret broke on impact as the plane hit the water.
Next day the body of Sgt Gruchy was retrieved by a boat from the "Falck".
He was buried in Svinø Churchyard on 20 May." (FT 86-87-4) p079MACR
Flight Sergeant (Wireless Operator / Air Gunner) Albert Gruchy, 20, a citizen of the UK, was the
son of Albert and Elizabeth Maria Gruchy, of St. John's Newfoundland. (Source: CWGC)
Grant him eternal rest O Lord and light perpetual to shine upon him
He is remembered on The Walls of Names at the International Bomber Command Centre, Phase 2, Panel 174.

1 airman from WEL Z1615 was buried in Svinø Churchyard. 4 airmen were taken to German POW-Camps.
Wellington III Z1615 WS-H took off from RAF Honington at 23.04 hrs on 15 MAY 1942. (Source: Aircrew Remembered has this) 5 airmen.