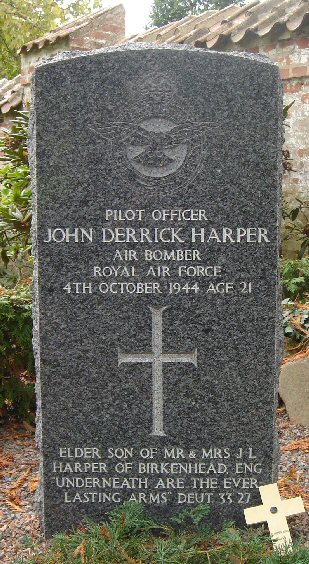 John Derrick Harper Updated: 29 MAR 2021
Airman: a087001.htm Surname: Harper Init: J D Rank: P/O Service: RAF Sqdn: 44
P_link: p378.htm Plane: LAN PB235 Operation: Minelaying Crash_site: Risgårde Bredning
Crash_d: d041044 Buried_d: b230645 C_link: c087.htm At_Next: Skive, Grave F 110

Risgårde Bredning. "På mineudlægningsoperation den 4. oktober 1944 nedstyrtede et Lancaster fly i
Risgårde Bredning" (FAF) omkring her. Se i Weekendavisen den 9. april 2010 Da krigen kom til Salling
(pdf 3,05 MB) af Hans Mortensen om dette fly! Modtaget fra forfatteren. Zoom. Se Google Map p378 Lancaster.

"Den 20. juni 1945 fandt nogle fiskere liget af flyets bombekaster, J.D. Harper. Begravelsen fandt sted den 23. juni 1945 fra Vor Frue Kirke. Kisten var dækket med Union Jack og en stor blomsterbuket. 6 frihedskæmpere stod æresvagt. Bag kisten stod forsvarsbrødre og spejdere med floromvundne faner. I følget sås bl.a. 5 engelske flyvere. Sognepræst P.J. Fiig-Pedersen talte både på dansk og engelsk og bad til sidst kammeraterne bringe den afdødes familie i England en hilsen. Ved graven affyredes æressalut." (FAF)
Pilot Officer (Air Bomber) John Derrick Harper, 21 år, var søn af Flying Offr. James Leslie Harper, R.A.F. (frivillig reserve). (Død i aktiv tjeneste 24. august 1944) og af Nora Harper, Prenton, Cheshire, United Kingdom (Kilde: CWGC)

1 blev begravet i Strandby, 1 i Skive og 1 i Aalestrup. 2 forsvandt i havet. 2 reddede livet og blev taget til fange.
Se monument for John Derrick Harper og hans kammerater. Se samtale med hans mor. Se Lancaster fotos.
Historisk Samling og Arkiv Himmerland har mere om dette fly og dets besætning. 7 flyvere.



Risgårde Bredning. "On a minelaying operation on 4 October 1944 a Lancaster crashed in Risgårde
Bredning" (FAF) about here. See also Google Map p378 Lancaster.

"On 20 June, 1945 some fishermen found the body of Air Bomber J. D. Harper. The funeral took place on 23 June, 1945 from Vor Frue Kirke. The coffin was covered with the Union Jack and a big bunch of flowers. 6 freedom fighters were there as a guard of honour. Behind the coffin were old soldiers (defence brothers) and scouts with funereal flags. Among the mourners were 5 British airmen. Rector P. J. Fiig-Pedersen spoke both in Danish and in English. Finally he asked the comrades to convey his regards to the family of the deceased in England. A salute of honour was fired at the grave." (FAF)

Pilot Officer (Air Bomber) John Derrick Harper, 21, was the son of Flying Offr. James Leslie Harper, R.A.F. (V.R.).
(Died on active service 24th August, 1944) and of Nora Harper, of Prenton, Cheshire, United Kingdom. (Source: CWGC)
He is remembered on The Walls of Names at the International Bomber Command Centre, Phase 1, Panel 45.

1 airman buried in Strandby, 1 in Skive and 1 in Aalestrup. 2 disappeared at sea. 2 saved their lives and became prisoners of war.
See monument to John Derrick Harper and his comrades and Interview with his mother.
See No. 44 Squadron RAF (Wikipedia) No. 44 (Rhodesia) Squadron Association * No. 44 Squadron (RAF): Second World War. RAF-Lincolnshire.info: 44 Squadron.
Lancaster III PB235 KM-C took off from RAF Spilsby at 17.24 hrs on 04 OCT 1944.(Source: Aircrew Remembered has this.) p378MACR * Lancaster Photos.7 airmen.