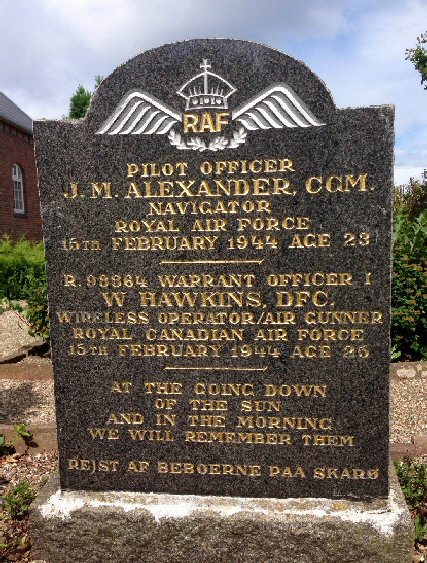 Walter Hawkins Photo Ole Andersen 3 JUL 2016 Updated 08 OCT 2021

Airman: a086002.htm Surname: Hawkins Init: W Rank: Wt/O Service: RCAF Sqdn: 7
P_link: p261.htm Plane: LAN ND365 Operation: Bomb G Crash_site: Near Vornæs
Crash_d: d150244 Buried_d: b160244 C_link: c086.htm At_Next: Skarø

"Natten til den 16. februar 1944 overfløj mange RAF fly den sydlige del af Danmark med Berlin som mål. Herunder nedstyrtede mindst 4 bombefly på dansk område. Et af disse, en Lancaster, styrtede i havet mellem Skarø og Tåsinge." (FAF) Alle 8 flyvere sprang ud med faldskærm. LAN ND365 styrtede ned omkring her.
"2 dræbte flyvere lå i vandkanten ved Østerhoved, hvor de blev trukket op på stranden og tildækket. Enkelte husker dem endnu, som de lå der på stranden, de unge mænd, der så
bravt kæmpede også for Danmarks sag. Købmand Kresten Madsen blev af tyskerne beordret
til at køre de døde til Skarø kirkegård, hvor de blev begravet "i nattens mulm og mørke" af den tyske værnemagt." (Skarø-folder)
"Tyskerne gravede graven og satte 2 trækors med navn og nummer på den. Næste morgen
var der sat et Dannebrogsflag på graven og lagt blomster." (FAF)
Warrant Officer Class I (Wireless Operator / Air Gunner) Walter Hawkins, 25 år, var søn af Thomas J. og Emma Hawkins, Naicam, Saskatchewan, Canada. Hæderstegn: D F C, Distinguished Flying Cross. (Kilde: CWGC)
2 flyvere fra LAN ND365 blev begravet på Skarø, 2 i Landet på Tåsinge og 2 i Svendborg.
2 blev krigsfanger og kom i Tyske krigsfangelejre. 8 flyvere.

"On the night before 16 February, 1944 many RAF planes flew over the southern part of Denmark targeting Berlin. At least 4 bombers crashed in Danish territory. One of these, a Lancaster, crashed into the sea between Skarø and Tåsinge." (FAF) All 8 airmen bailed out. LAN ND365 crashed about here.
"Two killed airmen lay at the water´s edge near Østerhoved from where they were pulled up on the beach and covered. A few people still remember them as they lay
there on the beach, the young men who fought so bravely also for the sake of Denmark. Kresten Madsen, the grocer, was ordered by the Germans to drive the dead
men to Skarø churchyard where they were buried "in the dead of night" by the German Wehrmacht" - without the assistance of a clergyman. (Skarø-folder)
"The Germans dug the grave and placed 2 wooden crosses with names and numbers on it. Next morning a Danish flag had been placed on the grave and flowers had
been laid." (FAF)
Warrant Officer Class I (Wireless Operator / Air Gunner) Walter Hawkins, 25, was the son of Thomas J. and Emma Hawkins, of Naicam, Saskatchewan, Canada.
Awards: D F C, Distinguished Flying Cross. (Source: CWGC) The Canadian Virtual War Memorial has this.
He is remembered on The Walls of Names at the International Bomber Command Centre, Phase 2, Panel 179.

2 airmen from LAN ND365 were buried on Skarø, 2 in Landet on Tåsinge and 2 in Svendborg. 2 became POWs and were taken to German POW-Camps.
See No. 7 Squadron RAF - Wikipedia * 7 Squadron Association * Lancaster Photos.
Lancaster III ND365 MG-L took off from RAF Oakington at 1701 hrs on 15 FEB 1944. (Source: Aircrew Remembered has this.) 8 airmen.