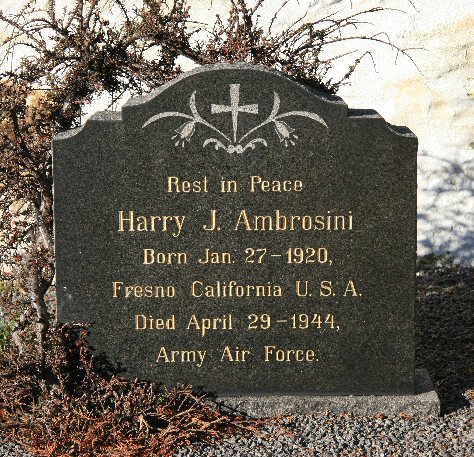 Harry J. Ambrosini Birger Bendtsen Updated: 03 JAN 2012

Airman: a073002.htm Surname: Ambrosini Init: H J Rank: T/Sgt Service: USAAF

Sqdn: 715 P_link: p306.htm Plane: B24 41-29479 Operation: Bomb G

Crash_site: Near Poulsker Crash_d: d290444 Buried_d: b020544

C_link: c073.htm At_Next: Pedersker

B24 41-29479 "Gypsy Moth" var den 29. april 1944 med start fra basen Seething
på bombetogt til Berlin. (Kilde: FT 87-93-6) Flyet styrtede ned her ved Jomfrugård, Strandmarksvejen 7, 3730 Nexø omkring 2 km syd for Poulsker. Ambrosini styrtede ned her. (Kilde: Niels Christian Pihl)
"Under et bombetogt til Berlin den 29. april 1944 fløj et beskadiget (brændende) amerikansk fly ind over Bornholm. Hele besætningen, 10 mand, sprang ud med faldskærm, men Sgt Ambrosinis faldskærm foldede sig ikke ud. Han blev dræbt
på Munkegårds grund kl. ca. 14.30. Begravelsen fandt sted den 2. maj." (FAF)
Harry J. Ambrosini er en af de 5 amerikanske flyvere, der stadig hviler på en
kirkegård i Danmark. Se kortet USAAF med alle amerikanske flyvere begravet i Danmark.



Starting from Seething Airfield on 29 April 1944 B24 41-29479 "Gypsy Moth"
was on a bombing raid to Berlin. (Source: FT 87-93-6) The plane crashed here at Jomfrugård, Strandmarksvejen 7, DK-3730 Nexø about 2 km south of Poulsker. Ambrosini crashed here. (Source: Niels Christian Pihl)
"On a bombing raid to Berlin on 29 April 1944 a damaged (burning) American plane flew in over Bornholm. All of the crew, 10 men, bailed out with parachutes, but
Sgt Ambrosini´s parachute did not open. He was killed on Munkegård´s soil at about 14:30. The funeral took place on 2 May." (FAF)
Harry J. Ambrosini is one of 5 American airmen who still rest in a churchyard in Denmark. See the map USAAF with all American airmen buried in Denmark.
(At this airman you only read his story. See the others at B24 41-29479.)
This B-24H Liberator belonged to 715th Bombardment Squadron, 448th Bombardment Group, (Heavy) 8th Air Force. See 8th Air Force in World War II. 10 airmen.