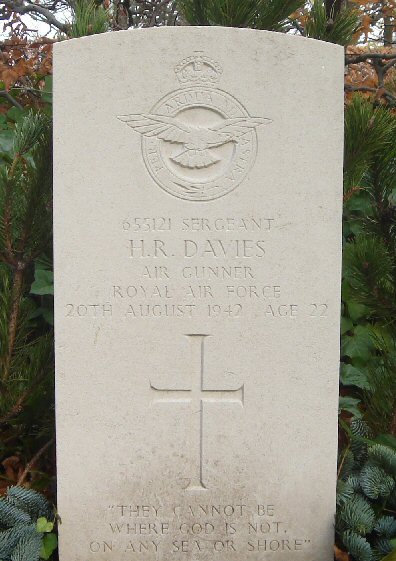 Hiley Rhys Davies Updated: 18 MAR 2022

Airman: a069013.htm Surname: Davies Init: H R Rank: Sgt Service: RAF Sqdn: 218
P_link: p103.htm Plane: STI W7615 Operation: Minelaying Crash_site: Sea S of Ærø
Crash_d: d200842 Buried_d: b011042 C_link: c069.htm At_Next: Odense

Den 20. august 1942 styrtede STI W7615 i havet (måske omkring her) i forbindelse med en minelægningsoperation til Kiel Havn. Se Minelægningsområder. Tog afsted 20.25 den 20. august
1942 fra RAF Downham Market. 4 fly mistet fra denne squadron den nat. (Kilde: p103MACR.)

H. R. Davies blev den 27. september 1942 fundet som lig ved Fuglsbølle Sønderskov (omkring
her) på Langeland.
Begravelsen i Odense fandt sted den 1. oktober 1942 ved 8-tiden. Kisten var kort før ført fra banegården til kapellet (her) og der henstillet indsvøbt i det engelske flag. (Kilde: FAF)
Sergeant (Air Gunner) Hiley Rhys Davies, 22 år, var søn af Benjamin og Amy Jane Davies,
Cardiff, United Kingdom. (Kilde: CWGC)
1 flyver fra STI W7615 blev begravet i Odense, 1 i Aabenraa og 1 i Kiel i Tyskland.
4 flyvere har ingen kendt grav. 7 flyvere.

On 20 August 1942 STI W7615 crashed into the sea (maybe about here) in connection with a minelaying operation to Kiel Harbour. See Minelaying areas. Left 20:25 20 August 1942 from
RAF Downham Market. 4 lost from squadron that night. (Source: p103MACR.).

On 27 September 1942 the body of H. R. Davies was found at Fuglsbølle Sønderskov (about
here) on Langeland. He was buried in Odense at about 8 a.m. on 1 October 1942. A short time
earlier his coffin had been taken from the railway station to the chapel of rest (here) and placed
there wrapped up in the Union Jack. (Source: FAF)
Sergeant (Air Gunner) Hiley Rhys Davies, 22, was the son of Benjamin and Amy Jane Davies,
Cardiff, United Kingdom. (Source: CWGC)
"They cannot be where God is not, on any sea or shore."

He is remembered on The Walls of Names at the International Bomber Command Centre, P2, P153.
1 airman from STI W7615 was buried in Odense, 1 in Aabenraa and 1 in Kiel in Germany. 4 airmen have no known grave.

See No. 218 (Gold Coast) Squadron RAF * No. 218 (Gold Coast) Squadron Association * Short Stirling
Stirling I W7615 HA-M took off from RAF Downham Market at 20:50 on 20 AUG 1942. (Source: Aircrew Remembered has this.) 7 airmen.