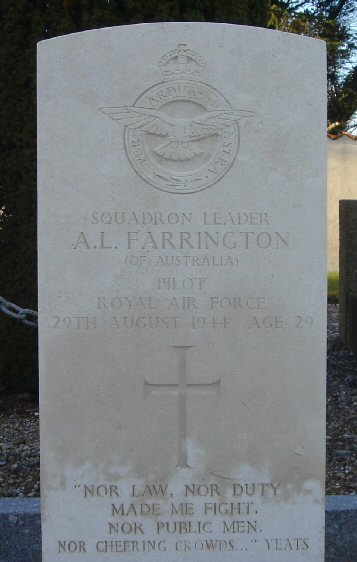 Allan Leonard Farrington Updated: 02 FEB 2017

Airman: a065002.htm Surname: Farrington Init: A L Rank: S/Ldr Service: RAF Sqdn: 582
P_link: p363.htm Plane: LAN PB202 Operation: Bomb G Crash_site: Førby Hede (Heath)
Crash_d: d290844 Buried_d: b030247 C_link: c065.htm At_Next: Nr. Vorupør

Den 29. august 1944 styrtede LAN PB202 ned ved Førby (her - overblik her og her.
Se Lancaster fotos og fotos fra nedstyrtningsstedet. Kilde: Jens Ole Villesen).
Flyet var sammen med næsten 600 fly fra RAF på vej over det nordlige Danmark på bombetogt til henholdsvis Königsberg (Kaliningrad her) og Stettin (Szczecin her). Det blev ramt af en tysk natjager, styrtede brændende ned og knustes totalt. Alle om bord blev dræbt.
Squadron Leader (Pilot) Allan Leonard Farrington, 29 år, britisk statsborger, var søn af Cyril Hawley Farrington and Ellie Farrington; gift med Alison Jean Farrington (f. Barbour), Balgowlah, Sydney, Australia. (Kilde: CWGC)

De dræbte flyvere blev af den tyske værnemagt nedgravet på Førby Hede.
Efter krigen blev de blev opgravet af britiske myndigheder og lagt i kister.
De blev flyttet til Nr. Vorupør Kirkegård den 3. februar 1947. (Kilde: FAF)
Se Før, under og efter en parentes i krigen (pdf) af Jimmy Munk Larsen, 2011 og
Lancaster PB202 flystyrt Thy samt Allieret flystyrt ved Ålvandet (pdf) af Erik Michael Andersen
2004 og Allierede flyvergrave (pdf) af Frank Weber 1995, begge fra Arkivthy. 7 flyvere.

On 29 August 1944 LAN PB202 crashed at Førby (here - overview here and here.
See Lancaster Photos and photos from the crash site. Source: Jens Ole Villesen).
This and nearly 600 other planes from the RAF flew over the northern part of Denmark on bombing
raids on Königsberg (Kaliningrad here) and Stettin (Szczecin here). It was hit by a German night
figher, crashed in flames and was totally smashed on impact. All on board were killed.
Squadron Leader (Pilot) Allan Leonard Farrington, 29, a citizen of the United Kingdom, was
the son of Cyril Hawley Farrington and Ellie Farrington, and the husband of Alison Jean Farrington
(née Barbour), of Balgowlah, Sydney, Australia. (Source: CWGC)
"Nor law, nor duty made me fight. Nor public men, nor cheering crowds..." Yeats
See also Flight Lieutenant Allan Leonard Farrington 40046 RAF at No. 211 Squadron RAF.

The perished airmen were dug down by the Wehrmacht on Førby Heath. After the war they were disinterred by British authorities and laid into coffins.
They were taken to Nørre Vorupør West Cemetery on 3 February 1947. (Source: FAF)
See Bomber Command No. 582 Squadron * No. 582 Squadron RAF * LITTLE STAUGHTON - RAF Book of Remembrance * Lancaster * The Lancaster Bomber.
Lancaster III ED620 6O-E took off from RAF Little Staughton at 21.10 hrs on 27 AUG 1944. (Source: Aircrew Remembered has this.) 7 airmen.