Henry James Brock Photo from his family via Kim Nielsen-Creeley Photo 02 OCT 2015 by Jens Chr. Jensen Photo total * More 21 DEC 2021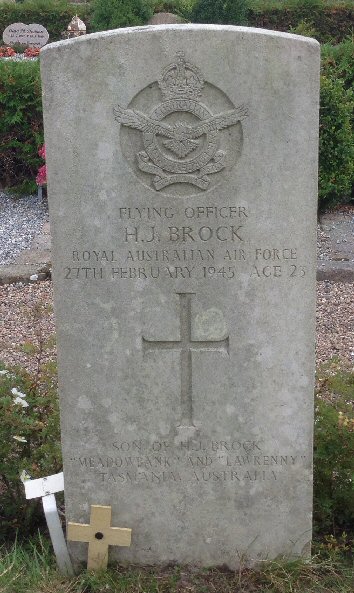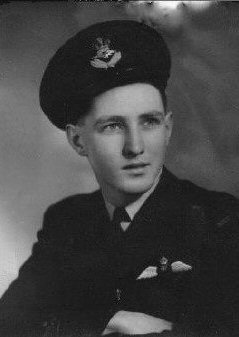 Airman: a034001.htm Surname: Brock Init: H J Rank: F/O
Service: RAAF Sqdn: 455 P_link: p399.htm
Plane: BFI NV414 Operation: Anti ship
Crash_site: Sea off Peterhead Crash_d: d270245 Buried_d: b060745 C_link: c034.htm At_Next: Hune

Den 27. februar 1945 styrtede BFI NV414 i Nordsøen ud for Peterhead. Det var blevet ramt af flak under angreb
på tyske skibe i Nordsøen og prøvede at nå tilbage til Scotland.
De to besætningsmedlemmer sprang ud med faldskærm ved Peterhead, Scotlands østligste punkt. Se p399MACR.
F/O Brock drev ud over havet, hvor han druknede.
Den 4. juli 1945 blev hans lig fundet skyllet ind ved
Rødhus Strand, omkring her. Han blev begravet af
pastor F. Busch i Hune den 6. juli 1945. (Kilde: FAF)

Flying Officer Henry James Brock, 23 år, var søn af Harold J.
og Jean Macbeth Brock, Glenora, Tasmania, Australia. (CWGC)
Hans bror Warrant Officer Harold Eric Brock faldt i 1944.
Hune Kirke ses i Amt, Herred, Sogn 1793-1970 med Hjørring Amt Hvetbo Herred, Hune Sogn.
Se Salldata AO genvej til Kontraministerialbog for Hune Sogn, Hvetbo Herred, Hjørring Amt,
1. Oktober 1942, her s.1 og her side 195 om denne mand, "Formentlig Canadisk (Australsk) Flyver".
Navn og alder må være fundet senere.

On 27 February 1945 BFI NV414 crashed into the North Sea off Peterhead.
It had been hit by flak during attack on German ships in the North Sea and tried to get back to Scotland.
The 2 crew members bailed out at Peterhead, the easternmost point of Scotland. See p399MACR.
F/O Brock drifted out over the sea where he drowned. On 4 July 1945 his body was found washed
ashore on Rødhus Strand, about here. On 6 July 1945 Vicar F. Busch officiated at the graveside
ceremony in Hune. (Source: FAF)
Flying Officer Henry James Brock, 23, was the son of Harold J. and Jean Macbeth Brock,
of Glenora, Tasmania, Australia. (Source: CWGC) Personal inscription on his headstone:
Son of H.J. Brock "Meadowbank" and "Lawrenny" Tasmania, Australia
Virtual War Memorial Australia has this. His brother Warrant Officer Harold Eric Brock fell in 1944.

More about this man in the Danish version. Buried as a "Presumably Canadian (Australian) Airman".
Name and age must have been found later.
F/Sgt Hirst was unhurt and landed in his parachute on Scotland Drome, Peterhead. (Source: FAF)
This Beaufighter from No. 455 Squadron RAAF, Coastal Command took off from RAF Dallachy. 2 airmen.