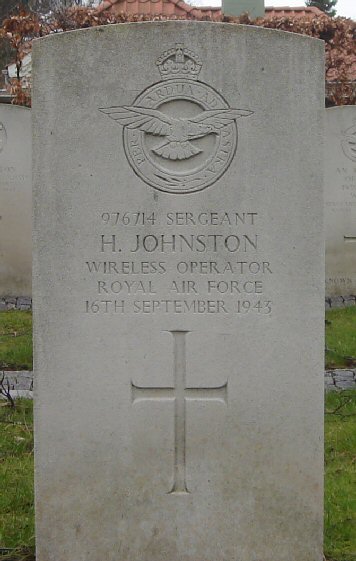 Henry Johnston Updated: 05 OCT 2021
Airman: a019042.htm Surname: Johnston Init: H Rank: Sgt Service: RAF Sqdn: 138
P_link: p222.htm Plane: HAL JD156 Operation: SOE to PL Crash_site: Off Norsminde
Crash_d: d160943 Buried_d: b131143 C_link: c019.htm At_Next: Frederikshavn, gr. 55

Natten til den 17. september 1943 blev HAL JD156 på vej til Polen skudt i brand af en tysk natjager.
Det var på SOE flyvning med forsyninger til den polske modstandsbevægelse - "Flat 5" siger
Flyvehistorisk Tidsskrift. Flyet gik i havet ca. 7 km ud for Norsminde syd for Århus, måske omkring her.
"Radiooperatøren, Sgt Henry Johnston blev i november 1943 fundet drivende i Kattegat (ud for Norsminde, siger FAF) og ført til Frederikshavn, hvor han blev begravet lørdag den 13. november. " (FT 90-64-16)
Sergeant (Wireless Operator) Henry Johnston var fra United Kingdom. (Kilde: CWGC)
1 flyver fra HAL JD156 blev begravet i Randers og 1 i Frederikshavn. 1 flyver forsvandt i havet.
4 blev reddet og taget til fange. (Kilde: FAF) 7 flyvere.

On the night before 17 September 1943 HAL JD156 on its way to Poland was shot ablaze by a
German night fighter. It was on an SOE operation with supplies for the Polish resistance - "Flat 5" says (Danish) Aviation Historical Review (FT). The plane ditched in the sea about 7 km off Norsminde south of Århus, maybe about here.
"Wireless Operator Sgt Henry Johnston was found drifting in the Kattegat (off Norsminde, FAF says)
and taken to Frederikshavn, where he was buried on Saturday 13 November 1943.
Sergeant (Wireless Operator) Henry Johnston was from the United Kingdom. (Source: CWGC)
He is remembered on The Walls of Names at the International Bomber Command Centre, Phase 2, P 190.
1 airman from HAL JD156 was buried in Randers and 1 in Frederikshavn. 1 airman disappeared at sea.
4 were rescued and captured. (Source: FAF)
See No. 138 Squadron Wikipedia*Halifax * Halifax Print * British Commonwealth Air Training Plan.
See also Tempsford Special Duties Squadrons * Roll of Honour, Tempsford
Halifax II JD156 NF-W took off from RAF Tempsford at 1826 hrs on 16 SEP 1943. (Source: Aircrew Remembered has this.) 7 airmen.