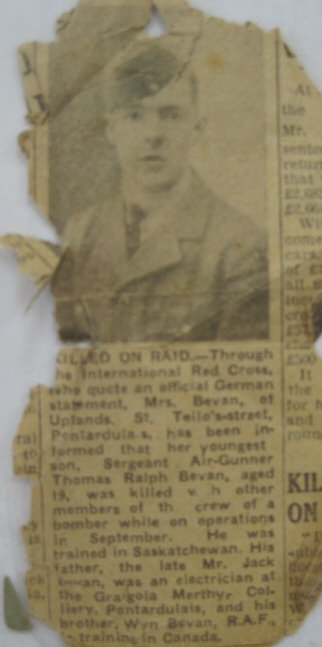 Thomas Ralph Bevan Updated: 30 AUG 2014
Avisudklip - Press cutting

Scan from Janet Rees
via Mike Brewser




Thomas Ralph Bevan mistede livet som haleskytte på LAN R5679. Se også Mindeblad.

Dette avisudklip:
DRÆBT PÅ BOMBETOGT Gennem Internationalt Røde Kors, som citerer en officiel tysk erklæring,
er Mrs. Bevan, Uplands, St. Teile's Street, Pontardulais, blevet oplyst om, at hendes yngste søn
sergeant, skytte, Thomas Raph Bevan på 19 år blev dræbt sammen med andre medlemmer af
besætningen på et bombefly under operationer i september. Han blev trænet i Saskatchewan.
Hans far, afdøde Mr. Jack Bevan, var elektriker på Graigola Marthy, Collierey, Pontardulais,
og hans bror Wyn Bevan, R.A.F., er under uddannelse i Canada.
Note: Trænet i Saskatchewan - sandsynligvis i et stort anlagt træningsprogram (se links på engelsk)
hvor flyvere kunne blive uddannet uden risiko for at møde fjendtlige fly.




Thomas Ralph Bevan lost his life as the Rear Gunner of LAN R5679. See also Memorial Booklet.

This press cutting says

KILLED ON RAID Through the International Red Cross who quote an official German statement,
Mrs. Bevan, of Uplands, St. Teile's Street, Pontardulais, has been informed that her youngest son,
Sergeant Air-Gunner Thomas Ralph Bevan, aged 19, was killed with other members of the crew of
a bomber while on operations in September. He was trained in Saskatchewan. His father, the late
Mr. Jack Bevan, was an electrician at the Graigola Marthy, Colliery, Pontardulais, and his brother,
Wyn Bevan, R.A.F., is training in Canada.
Note:
Trained in Saskatchewan - probably in the British Commonwealth Air Training Plan,
see List of British Commonwealth Air Training Plan Facilities in Canada
and CATP Museum
and Bomber Command Museum.