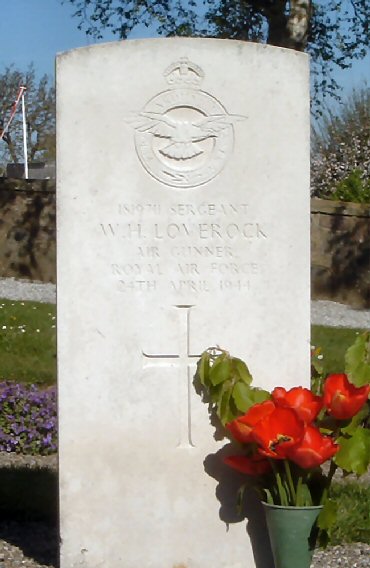 William Henry Loverock Updated: 30 DEC 2011
Airman: a096043.htm Surname: Loverock Init: W H Rank: Sgt Service: RAF Sqdn: 77
P_link: p305.htm Plane: HAL LW270 Operation: Minelaying Crash_site: Near Hjelm, Lolland
Crash_d: d240444 Buried_d: b260544 C_link: c096.htm At_Next: Svinø

HAL LW270 styrtede ned kl. 23:50 den 23. april 1944 på en mark nær Hjelm, som er her. Dette fly skulle lægge miner ud for Rostock, omkring her.
"114 RAF bombefly foretog denne nat mineringer i Østersøen og 4 Halifaxes og 1 Stirling gik tabt fortrinsvis p.g.a. tyske natjagere. LW270 blev vest for Nakskov (omkring her) angrebet af en Me110
fra 10./NJG3 baseret på Westerland på Sylt (her). Flyet brød i brand og mid-upper gunner, Sgt
W.H. Loverock, der var med på sit første togt, blev hårdt såret. Mid-upper gunner og piloten,
F/Sgt P.D. Sykes landede i vandet og druknede." (FT 86-92-27)
Se Memories from World War II af James H. Murray.

Sergeant (Air Gunner) William Henry Loverock var fra United Kingdom. (Kilde: CWGC)
7 flyvere.

At 23:50 on 23 April 1944 HAL LW270 crashed into a field near Hjelm, which is here.
This plane was to lay mines off Rostock, about here.
"114 RAF bombers carried out minelaying operations in the Baltic Sea, and 4 Halifaxes and 1 Stirling
were lost, mostly due to German night fighters. LW270 was attacked west of Nakskov (about here) by
a Me110 from 10./NJG3 based in Westerland, Sylt (here). The plane caught fire and Sergeant (Mid
Upper Gunner) W.H. Loverock was severely injured on his first sortie. All 7 crew members bailed out
over the northeastern part of Lolland and the northern part of Guldborgsund (the area around this point). Sergeant (Flight Engineer) G. Jones´s parachute did not deploy and he was found killed in a gravel pit
near Sørup on Falster (about here). The Mid Upper Gunner and Flight Sergeant (Pilot) P.D. Sykes
landed in the water and drowned." (FT 86-92-27)
See Memories from World War II by James H. Murray.

Sergeant (Air Gunner) William Henry Loverock was from the United Kingdom. (Source: CWGC)

See RAF - Handley Page Halifax * Bomber Command No. 77 Squadron * The Wartime Memories Project - 77 Squadron. This Halifax took off from RAF Elvington.
Lost Bombers has this. 7 airmen.