Yorkshire Air Museum 77 Squadron LINKS Updated: 09 OCT 2017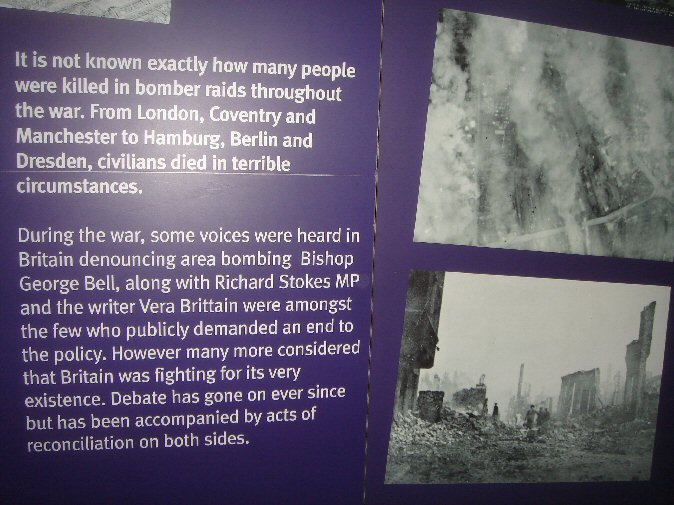 Foto: Anders Straarup 16 SEP 2017
Fra The Yorkshire Air Museum.
Det vides ikke nøjagtigt, hvor mange mennesker, der omkom i bombeangren under krigen. Fra
bombemål: London, Coventry og Manchester,
til Hamburg, Berlin og Dresden døde civile under frygtelige omstændigheder.
Under krigen hørtes nogle stemmer i Stor-britannien mod områdebombninger.
Biskop George Bell sammen med Richard Stokes MP og skribenten Vera Brittain var blandt de få, som offentligt krævede et stop for den politik.
Mange flere mente imidlertid, at Storbritannien kæmpede for selve sin eksistens.
Debatten er fortsat lige siden, men er blevet ledsaget af forsoningshandlinger fra begge sider.

Se også Tab af liv om flyvere og links på engelsk.

Photo: Anders Straarup 16 SEP 2017
From The Yorkshire Air Museum.
Target and persons mentioned:
London, Coventry, and Manchester.
Hamburg, Berlin, and Dresden.
Bishop George Bell, Richard Stokes MP, and
writer Vera Brittain.

See Strategic bombing
Civilian casualties of strategic bombing
Aerial bombing of cities of Europe.

See also Loss of Lives of Airmen.