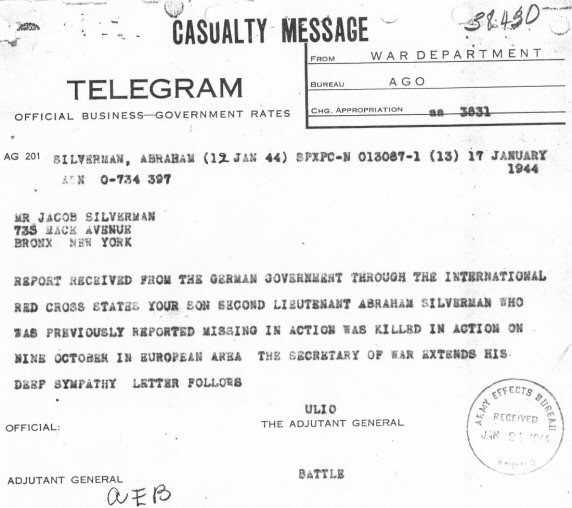 Den 9. oktober 1943 kl. 12.50 styrtede B17 42-29868 i
Østersøen.

Flyet blev angrebet af Me109 og brød straks i brand. Flere besætningsmedlemmer sprang med faldskærm, før flyet eksploderede.

Liget af 2nd Lt Abraham Silverman blev fundet
den 10. oktober 1943 som fortalt i uddrag af Politirapporten.

Den 17. januar 1944 fik hans far meddelelse om at hans søn
ikke længere blev betragtet som savnet. Han var død i kamp!

On 9 October 1943 at 1250 hours B17 42-29868 crashed
into the Baltic Sea.
The plane was attacked by Me109 and immediately caught fire.
A number of crew members bailed out before the plane exploded.
On 10 October 1943 the body of 2nd Lt Abraham Silverman
was found as told in the excerpt from the Police Report.

On 17 January 1944 his father was officially told that his son no
longer was considered Missing in Action. He was Killed in Action.