Lancaster III PB292 - Høgsholt near Vejle Updated: 17 MAY 2008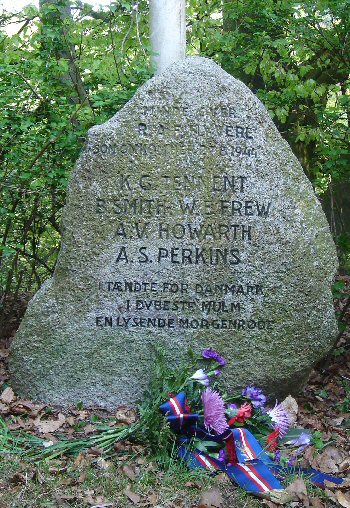 LAN PB292 eksploderede i luften og vragstykker faldt ned over et stort område. (Kilde: AOD)
Mindestenen er rejst på nedstyrtningsstedet her. Zoom meget tæt på og se flagstængerne.
Mindestenen er set her 5. maj 2008 med en buket lagt aftenen før 63 år efter befrielsen.
Besøg? Find Høgsholtgård, Høgsholtvej 213, 7100 Vejle gå 250 m mod syd og se de 3 flagstænger
550 m mod øst. Gå forsigtigt! September 2013 - se Mindestenen på et bedre sted.

LAN PB292 exploded in the air and debris fell in a very big area. (Source: AOD)

Memorial to R.A.F. airmen who perished here 27.8.1944
K.G. Tennent, B. Smith, W.E. Frew, A.V. Howarth, A.S. Perkins
You lit for Denmark in deepest darkness a luminous red dawn.

This memorial is erected at the crash site here. Zoom very close and see the flagpoles.
The memorial stone is seen here on 5 May, 2008 with a bunch of flowers laid the previous evening
63 years after the liberation of Denmark. The German surrender was announced in the evening news
from BBC, London.
A visit? Find Høgsholtgård, Høgsholtvej 213, 7100 Vejle walk 250 m south and see the 3
flagpoles 550 m to the east. Walk carefully! September 2013 - see the Memorial stone in a better place.