B 17G 42-38005 Stormy Weather - Photo at the Reunion 2001 Updated: 20 APR 2008
Photo from Gunnar Hounsgaard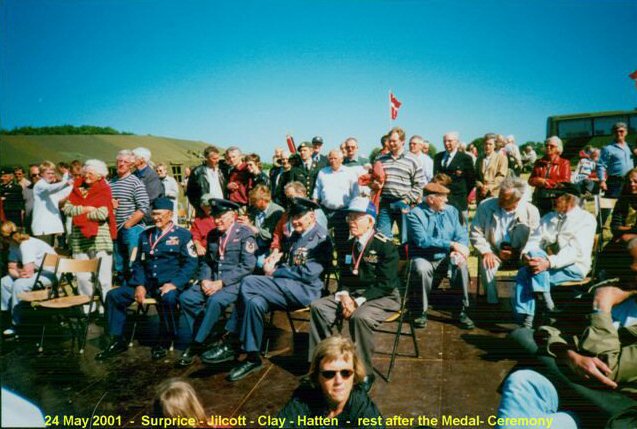 Foto fra gensynsfesten her i 2001 for
B 17 G 42-38005 Stormy Weather
57 år efter styrtet her 24. maj 1944.
De 4 gamle flyvere hviler efter medaljeoverrækkelsen.
Hjemmesiden Stormy Weather har fotos og mange detaljer om flyet, besætningen, nødlandingen, kort, links og meget mere, også arrangementerne i 2001 og 2004.

Photo from the Reunion here in 2001
57 years after the crash landing of
B 17 G 42-38005 Stormy Weather
here on 24 May, 1944.
The 4 old airmen rest after the Medal-Ceremony.
The website Stormy Weather has photos and many details about the plane, the crew, the crash landing, maps, links and also much about reunion in 2001 and the anniversary in 2004.

En rask mand på 20 år i 1944 er 77 år i 2001.

Any fit man, 20 years old in 1944, is 77 years old in 2001.