Stirling I BF447 - Near Vrønding - Monument Updated: 11 DEC 2019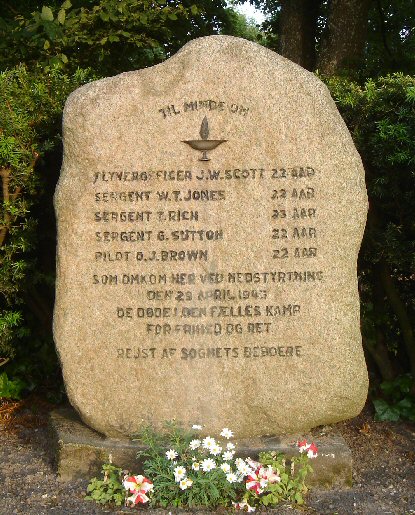 Monument for 5 flyvere fra STI BF447 rejst her ved
Kærgaard, Tamdrup Kirkevej 7, 8700 Horsens,
1,5 km sydvest for Tamdrup Kirke.
Mindestenen blev afsløret den 5. maj 1950.
Se mange filer fra Hans Friis Jensens Hjemmeside, Flystyrt 1943.
Se også Mindestenen, besøg 2007 og mere hos Villy Holtet Nielsen.



Monument to 5 airmen from STI BF447 erected here at
Tamdrup Kirkevej 7, DK-8700 Horsens,
1.5 km south west of Tamdrup Church.
The memorial stone was unveiled on 5 May 1950.
In memory of
F/O J.W. Scott 22 years
Sergeant W.T. Jones 22 years
Sergeant T. Rich 23 years
Sergeant G. Sutton 22 years
P/O D.J. Brown 22 years
who perished here in the air crash
April 29, 1943.
They died in the common fight
for freedom and justice.

Erected by residents of the parish.
See many files from the website of Hans Friis Jensen, Air crash 1943.
See also
The Memorial Stone, a visit in 2007 and more in Danish and in English
at Villy Holtet Nielsen.