A visit at the gravestone of an airman shot down over Denmark

by Helge Christiansen

Updated:

17 MAY 2022



På dansk Flight Lieutenant, Navigator Wilfred John Parsons

, photo from his daughter via Helge Christiansen.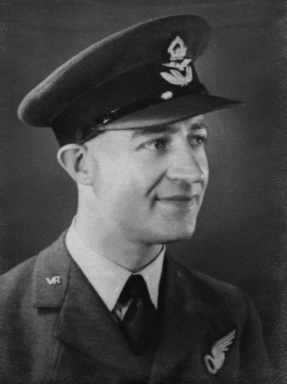 On 4 May 2013 the annual commemorative service was held in Svinø Churchyard in southern Zealand. This year
it was particularly stressed that a bomber was shot down near Drøsselbjerg, as one of the attendants in Svinø Church
was Rosalind Anne Elliot, 71, née Parsons. She was less than 2 years old when her father was killed near
Drøsselbjerg. Now she had come to Denmark with her husband Ted Elliot, his brother and wife to see her father's gravestone.
His name was
Wilfred John Parsons
and he lost his life on 21 April 1943, when their
Halifax B II HR722
crashed
on the Drøsselbjerg Cliff and ended up in the water. (
See
photos
.)
The bomber was on the return flight after a
bombing raid on Stettin. They were hit by heavy fire from flak near Korsør. All 8 crew members might have been killed before the crash.
Among them was W.J. Parsons, who only reached the age of 25. He left behind his wife and little daughter Rosalind back home on the Isle of Wight near the south coast of England.
The killed airman was washed ashore and he and another airman, George H. Willis, were both found on 18 May
near Kirke Stillinge and Bildsø Strand. On the same day the Falck in Ruds Vedby took them to the chapel of rest in Kirke Stillinge.

On 21 May 1943, one month after they perished, they were buried in Svinø Kirkegård next to their comrades.

The inscription on Parson's gravestone reads
FLIGHT LIEUTENANT W. J. PARSONS, NAVIGATOR, ROYAL AIR FORCE, 20TH APRIL 1943 AGE 25
SWEET ARE THE MEMORIES / SILENTLY KEPT / OF ONE WE LOVED / AND WILL NEVER FORGET
After the memorial service in the churchyard in Svinø Rosalind Elliot asked if the crash site at the Drøsselbjerg Cliff is marked in any way, but it is not.
(This is what Helge Christiansen sent to AirmenDK in April 2014.) Sources: www.airmen.dk The magazine Folk og Sikkerhed (People and Security) April 2013.
PS. A memorial plaque was unveiled at the crash site on 21 April 2014. Photo of W. J. Parsons added on 21 July 2015.
In 2014 Mrs Rosalind Elliot, the daughter of Wilfred John Parsons, presented Helge Christiansen with a miniature of
Memorial to 158 Squadron stationed at RAF Lissett. In 2015 it was passed on to the Drøsselbjerg Church and placed near the baptismal font.